White-backed woodpeckers nesting on SCA's land
There are white-backed woodpeckers nesting on SCA's land in Västerbotten. This very rare woodpecker has stringent habitat requirements and SCA has taken several measures in the area to try and attract the bird. It seems those efforts have finally paid off.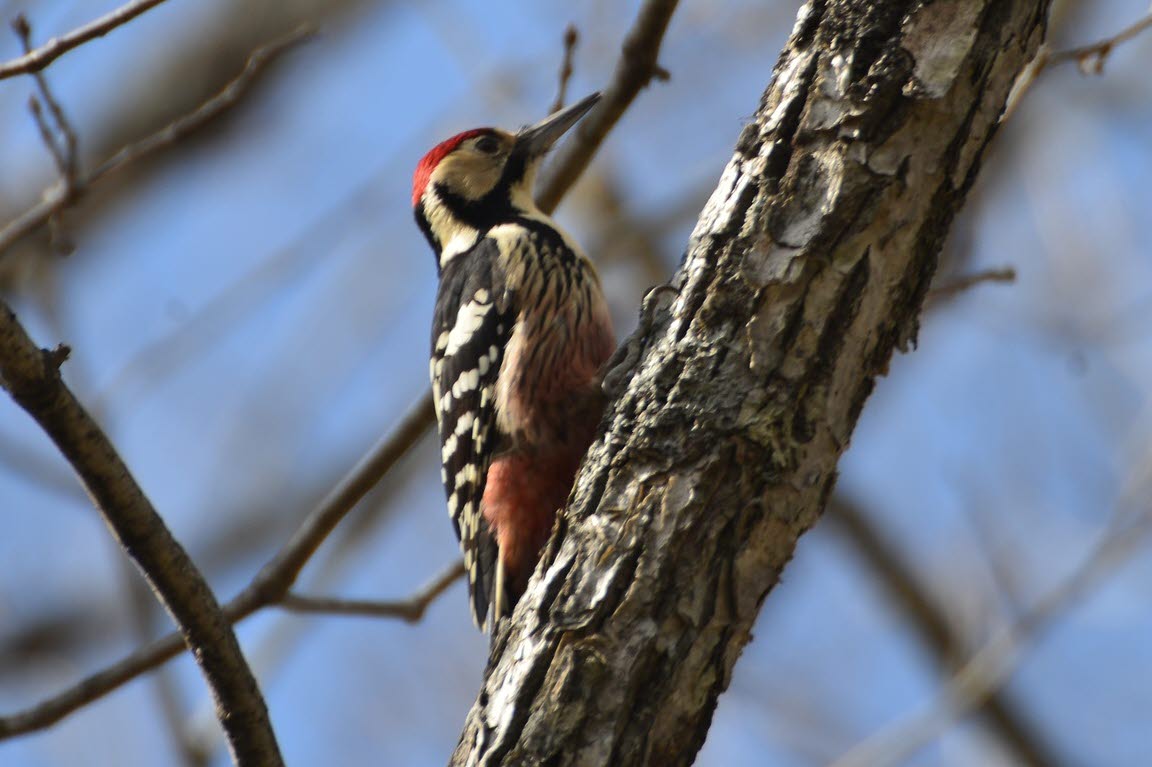 While Hampus Pettersson, in charge of forest management at SCA Skog in Umeå, was waiting for a road contractor in the forest a few weeks ago, he ran into a couple of employees from the county administrative board who were taking care of another matter. As they stood there talking, something suddenly flapped by and landed in a nearby tree.
"It was a white-backed woodpecker! Shortly afterwards, we discovered the nest hole and saw another woodpecker. It was amazing and the whole group was ecstatic. This is an incredibly rare woodpecker," says Hampus.
Andreas Garpebring from the Västerbotten county administrative board was one of the people who saw the woodpeckers.
"We could see one that was feeding babies in the nest and another one was coming with grubs, so it was definitely a nesting. We knew there was a white-backed woodpecker in the area, but we were incredibly surprised and happy to discover a breeding pair. The county administrative board usually tries to follow up nesting birds, so we'll see what this one leads to," says Andreas Garpebring.
"If you are ever lucky enough to see a white-backed woodpecker, please leave it alone," he adds.
Stringent habitat requirements
The white-backed woodpecker is classified as Critically Endangered on the Swedish Red List. According to the Swedish Society for Nature Conservation, there are only about 40 individuals in Sweden, and about ten breeding pairs.
"The white-backed woodpecker has stringent habitat requirements and lives in deciduous forests with many dead and dying trees, where they can find food in the form of wood-loving insects that inhabit aspen, alder, birch and sallow. This type of forest is not very common any more. The woodpecker also needs a lot of high-quality breeding space to survive – during the breeding season, a territory can cover at least 100 hectares," says Andreas Renöfält, forest ecologist at SCA Skog.
"The reason why there is so much focus on the white-backed woodpecker is not just because the bird is so beautiful and exciting, but because it's an umbrella species," he adds. That means there are about 200 other red-listed plant and animal species that are dependent on the same type of habitat as the woodpecker. The discovery of nesting white-backed woodpeckers is proof that our efforts to create a forest with very high conservation value have been successful.
One of SCA's protected species
"In this specific area, SCA's nature conservation expert Ulf Hallin has been working diligently for a long time with active measures to attract the white-backed woodpecker and other values associated with leaves. He has been very committed and it's fantastic that there's a breeding pair here now," says Andreas Renöfält.
The discovery of the breeding pair means that SCA can now add the white-backed woodpecker to its list of protected species.
"We've been trying to attract the bird but due to the lack of sightings, it was never included on our list of protected species. Now it will be," says Andreas Renöfält.
In recent years, the white-backed woodpecker has been sighted in Northern Sweden on several occasions. Four breeding pairs were sighted in Västerbotten last year.
"We know that the white-backed woodpecker flies over to northern Sweden from Finland. Finland has been successful in attracting the woodpecker and in 2019, the species was reclassified from Critically Endangered to Vulnerable on the Finnish Red List," says Andreas Renöfält.
Ongoing action plan
Sweden launched a specific action plan for the white-backed woodpecker and its habitats in 2005, with the aim of creating a viable population of white-backed woodpeckers. The plan covers the counties of Västra Götaland, Värmland, Örebro, Västmanland, Uppsala, Dalarna, Gävleborg, Kalmar, Västerbotten and Norrbotten. The activities in the action plan are led by the Swedish Environmental Protection Agency, the relevant county administrative boards, the Swedish Forest Agency, the Swedish Society for Nature Conservation and Swedish forestry.
Photo: Pixabay/Takashi Yanagisawa