Autonomous soil scarification and planting is fully feasible. This has been demonstrated by the joint Autoplant project.
AutoPlant is a Vinnova-funded joint project between the Forestry Research Institute of Sweden, SCA, Luleå University of Technology, the Royal Institute of Technology, Bracke Forest, Skogstekniska klustret, Södra, Sveaskog and Holmen.
Since 2019, the project team has been working on the development of subcomponents and then testing them in a research platform – a type of driverless test machine for soil scarification and planting. The idea is that the technique will provide a better working environment and higher precision, and reduce environmental impact compared with currently used machines.
Major potential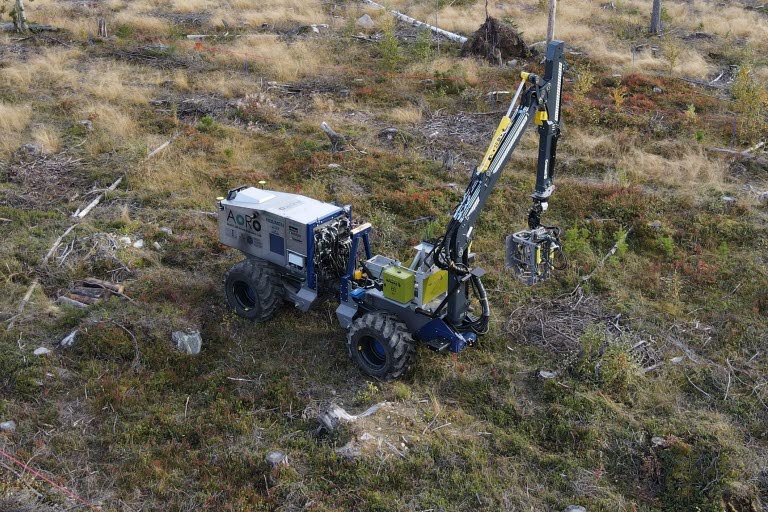 The technique was tested on SCA's land during the autumn and the results were presented to the forest industry in November at a seminar held at the Royal Institute of Technology in Stockholm.
"The field trials show immense potential for an exciting technological advance in forest regeneration," says Magnus Bergman, Head of Technology and Digitalization at SCA Skog and Chair of the project's steering committee.
"We need to develop new, gentle and more effective methods for soil scarification and planting and we're convinced that a smaller and autonomous forest regeneration machine is the way forward."
High-precision scarificationOne of the project's key goals was to enable high-precision scarification so that less energy would be required and to reduce soil distrubance. The time required to regenerate various types of soil, the possible costs, and the extent of soil disturbance were also studied.
Other challenges faced by the project were to get the machine to select the planting spot and then drive the crane to that spot. For this, the Forestry Research Institute of Sweden developed a planting spot selector based on an obstacle map, while Luleå University of Technology further developed this process with image analysis and AI, so that the machine can recognize stumps, stones and tree parts in real time using a stereo camera, which are then used to construct the obstacle map.
"However, there is still a lot of work to be done to find a robust technology that works in all types of weather, as well as different light and soil conditions," says Magnus Bergman.
Good progress
The project has also developed partial solutions for autonomous driving. These include Pathfinder route planning, which is based on harvester data and various geo data to determine what tree species should be planted where, the areas that should be avoided, the interval between seedlings and how the routes should be planned to reduce, for example, driving time and fuel consumption. How the machine can avoid unexpected obstacles was also studied.
The project will end in February 2023 but the project team is working on a new application for funding from Vinnova to continue its development of the machine.
"We've made a lot of progress over the past 18 months, and I can now see that our vision of a durable autonomous soil scarification and planting machine is possible. But there's a long way to go and a lot of work remaining until a finished machine is available," says Magnus Bergman