Dialogue and cooperation
As Sweden's largest private forest owner, it is important for us to be involved in different issues and forums. In this way, we can contribute active to the development of the forestry industry, both at local and national level. We are also engaged in local communities in which we operate.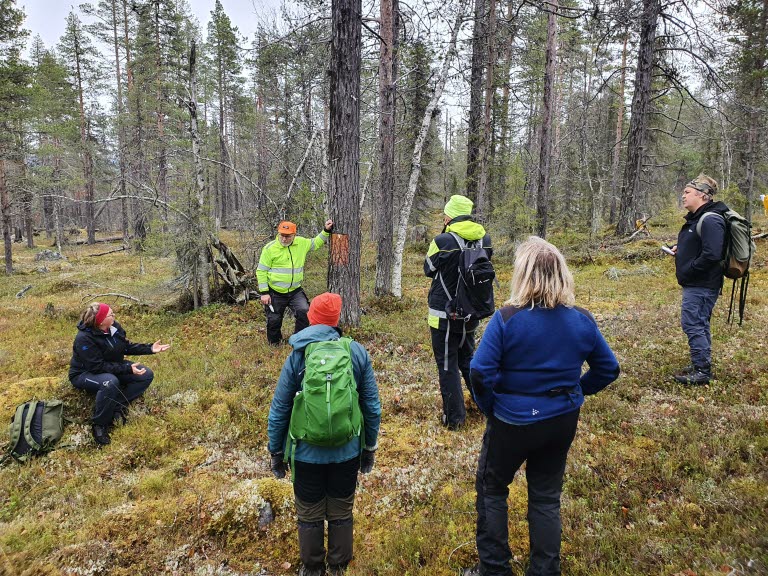 Collaboration and dialogue with other parties is an important part of our business and takes place in many ways. We participate in various development projects within the forestry industry and with other parties.
We have research collaborations with various universities as well as collaborations of a more practical nature to benefit endangered species. We also carry out consultations with the reindeer industry and dialogue with authorities and environmental organisations.
Some examples on collaboration and dialogue:
Ongoing dialogue with the county administrations and the Swedish Environmental Protection Agency regarding forests particularly worthy of protection that we sell with the goal of them becoming nature reserves.
Annual reference group meetings with parties who have an interest in our conservation parks.
Active part in the Swedish Forestry Agency's collaborative group for target images for good environmental consideration. The target images should serve as a guide in practical forestry.
Cooperation with the county administrations on measures for ÅGP species - especially vulnerable species that are dependent on disturbance,. These species have received action programs from the Swedish Environmental Protection Agency.
Active party in the work with the Swedish FSC standard as well as the development of a new PEFC standard.
Many research projects are carried out on SCA's land. Either we act as a forest holder or we are part of larger research collaborations to contribute to research being conducted in technology, forestry, forest management and nature conservation.
Collaboration with Mistra Forest, a multi-year forest research project around digitized forestry, among other things.
Collaboration with Scania regarding the commissioning of Sweden's first electric logging truck.
Collaboration with Mittuniversitetet, Telia and Volvo for remote-controlled timber loaders at timber terminals.
Collaboration with Komatsu Forest and other forest companies in the development of Centipede, a new gentle forest machine
Collaboration with Skogforsk, LTU, KTH, Bracke Forest, Skogstekniska klustret and three forestry companies in the Autoplant project, a self-driving machine for land preparation and planting.
Strong local anchoring
SCA's forestry operations take place within a large geographical area – from Söderhamn in the south to Pajala in the north. The local anchoring is of great importance to us, and our forestry operations create employment in many smaller communities in northern Sweden's sparsely populated areas.
For us, it is a matter of survival that this part of Sweden has vibrant local communities near the forest. Most of our employees work and live in smaller communities all over norther Sweden. In addition, we collaborate with many local companies and entrepreneurs. For example, we have agreements with around a hundred harvest and silviculture contractors as well as nearly 70 haulage companies, which in turn provide employment for around 600 drivers who manage our timber transports.