Quality is our guiding light. We don't just follow the development of plants - we want to lead it!
In our laboratory, we conduct research and development at a level that is unparalleled among Swedish plant producers. We have the most extensive plant quality monitoring in the country. During the growth of the plant, we follow it closely and regularly analyze the plant's vitality, the balance between root and green part and the nutrient composition.
We also have a unique system that allows us to follow the same plant through its youth. We document all samples, which allows us to see the status of all plants in the greenhouses and in our open fields. You could say it's a kind of childcare center for plants.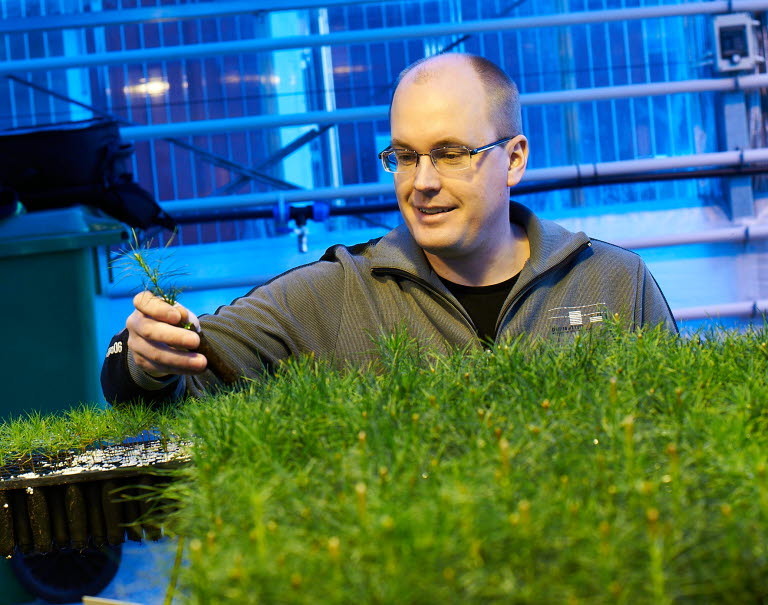 It gives us valuable information for both plant cultivation and how we should work with forest management. Thanks to our childcare center for plants, we can also compare with previous years' cultivations, so we know that the plants are growing as well as they usually do. We can also see which plants are ready for delivery to the clearings in the forest.
Development
We also conduct research to improve and develop our plants and give them even better conditions. In our experimental greenhouse, we test and develop, for example, protection against insect attacks, fertilizer types and peat qualities. We also develop methods to be able to fight attacks by pests and fungi in a more environmentally friendly way.
Follow-up in the forest
We regularly monitor the seedlings we plant in our own forests until they reach the age of ten. By using so-called fixed sample areas that we have all over Norrland, we get good information about the quality of the plants and how they develop. Our plant monitoring began back in 1974 and we have monitored many thousands of plants over the years. We collect all the information in a database and thanks to this knowledge we can continue to develop our plants, cultivation and forestry so that our plants become even better.
The road ahead has no end
We at NorrPlant work continuously to develop new plants. We are also involved in the work of establishing new seed plantations to produce seeds with better properties and which will produce trees that grow even better than today's forests. As we see it, development never ends.