There are plenty of fishing waters on our forest holdings and the majority of these are jointly owned fishing waters. Remember to buy the right fishing license before you go fishing.
SCA has a small share of privately owned fishing waters, despite our large forest holdings. Partially owned, or so-called pooled waters, make up the largest part of the water area – about 90 percent - while the rest is made up of wholly owned fishing waters. The consolidated fishing waters have gradually been classified to a very large extent in fishing areas.
Our view is that fishing areas are a good form of management for shared waters. They can develop fishing and fisheries management, as well as promote the sale of fishing licenses to the public. Fishing areas in most cases lead to better and expanded fishing for both the fishing rights owner and the public. SCA is connected to most of all fishing areas within the company's area of operation.
Permits for fishing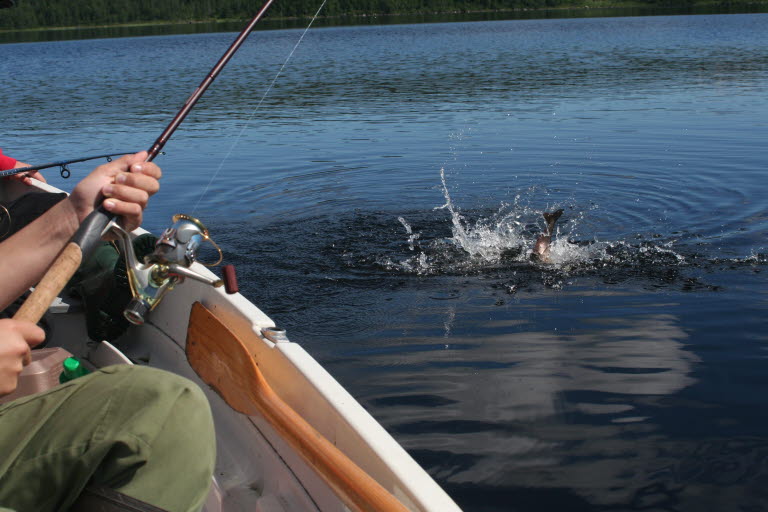 In our own fishing waters with preferably high quality and high demand, fishing is leased to employees and the public through the sale of fishing licenses. Daily, weekly, or annual passes are offered for recreational fishing and sport fishing.
Grants of individual fishing waters can also be made to, for example, fishing areas, sport fishing clubs, companies and individuals.
Water and fisheries conservation
The fisheries management's goal is that the fishery should provide both a good return and high PR and recreational value. Within its own short fishing areas, SCA carries out fisheries conservation measures to a reasonable extent.
In the following program of actions, some guidelines appear that should be guiding in fisheries conservation work.
Action program for fishing
Fish conservation measures are updated when necessary and implemented in accordance with the best expertise in the area.
Types of water where actions can be made:
Flowing water: release of salmon, trout, grayling, crayfish.
Lakes with natural reproduction: release of trout, char, crayfish.
Reinforcement stocking in suitable waters: stocking of trout, char.
Put-and-take fishing in areas close to urban areas and easily monitored: stocking of native species, mainly trout and char, is prioritized.