Galtström's mansion was the Director's residence. The current mansion was built in the 1830s and received its current appearance when it was refurbished in 1889. Prior to that, there were three mansions that were probably more modest. The first mansion was burnt down by the Russians in 1721.
The Russians raided the north coast of Sweden between 1719 and 1721 during the Great Northern War which took place between 1700 and 1721. On May 25, 1721, a battle took place around Sundsvall. The strenght of the Russian army – consisting of some 6,000 infantry and Cossacks – was superior. The Russians defeated the regiment and the city of Sundsvall and surrounding villages, including Galtström, were pillaged and razed.
As well as the Director and his family, the maids who ran the household also lived in the mansion. They slept in the maids' bedrooms in the garret. Keeping the mansion free of coal dust was probably hard work.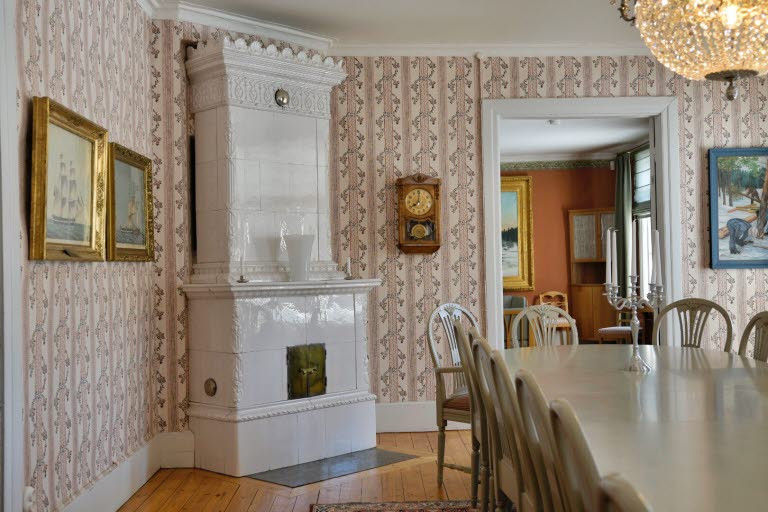 The wings were built after the mansion had been completed. They held staff accommodation and the ironworks office, which is well preserved. There were large plots around the mansion that would contribute to the works' food supply. There were also beautiful parks for recreation. The first park was laid between the wings and some of the trees are still there. In the 1850s, an English Garden was laid further north. There were winding paths and secluded garden benches as well as a lawn bowling alley. The park bordered Herrgårdstjärnen Lake. In the early 1900s, the park fell into disrepair. The English Garden is now known as den glömda parken (the forgotten park).
The Director, Controller and bookkeepers had their workplaces in the ironworks office. At the long counter in front of the bookkeeping desks, the workers collected their wages. A number of sniper rifles have been preserved in the office. They were acquired in the 1860s to protect the ironworks from attack.
With its authentic timely interior, this is one of the best-preserved ironworks offices in Sweden.