The concept machine Centipede has been developed by SCA, seven other Swedish forestry companies and the forest machinery manufacturer Komatsu. The goal is to have a machine that combines lower soil compaction, increased productivity, and better operator environment.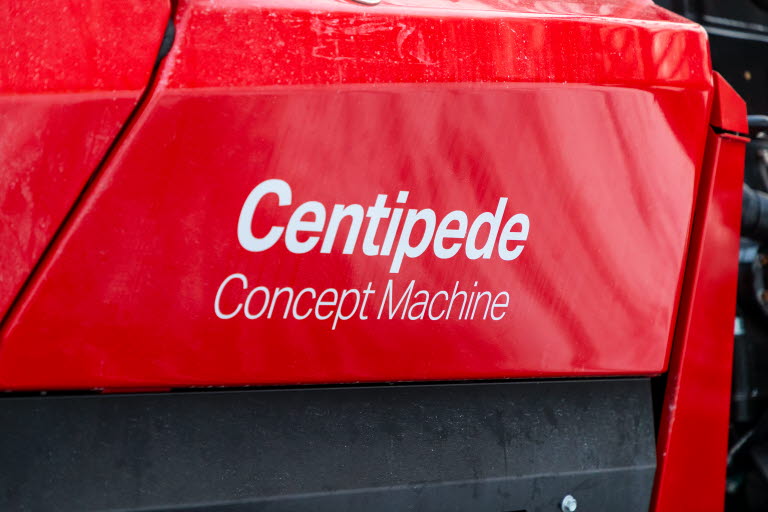 Swedish forestry is facing major challenges and the issue of sustainability is the focus of attention. For this reason, SCA, Södra, Sveaskog, Holmen, Norra Skog, Mellanskog, Stora Enso and BillerudKorsnäs, as well as the forest machinery manufacturer Komatsu Forest, have since 2019 jointly developed a new forest machine for low-impact forestry.
With its innovative technology, the Centipede is designed to ensure the most sustainable possible management of forests. It has been developed to meet the challenges of forestry and offers three important benefits: Lower soil compaction, increased productivity, and better work environment.
The machine has a newly developed forestry track system, with a large support surface to minimize ground impact. It also has a fully suspended chassis to handle uneven ground conditions, enabling the speed of the machine to be increased significantly without the corresponding increase in vibrations. It reduce the risk of ground damage, to increase transport speed and to reduce whole-body vibrations for the operator.
With this newly developed technology, Centipede can be driven both on sites that are normally regarded as winter sites and on sites that are significantly impacted by precipitation. In addition to being able to satisfy timber supply throughout the year and thus provide better prerequisites for profitable harvesting operations, Centipede has a number of characteristics that will directly increase production.
"The forest industry and Komatsu are now jointly taking a major technology leap with a machine that is more gentle on the environment and the operator, at the same time as it enables a more efficient flow of timber. With Centipede, we can meet the challenges arising from increasingly shorter periods of frozen ground and, for this reason, the machine is one of the most important development projects in forestry." says Magnus Bergman, manager for technique and digitalization at SCA Skog and Chairman of the project's steering committee.
As a result of its innovative design, Centipede can move around the terrain significantly faster and can carry a larger load than the Komatsu 855, which was used as the benchmark. Both of these characteristics create conditions for significant increases in productivity. In addition, Centipede has demonstrated in simulations that fuel consumption is reduced by up to 15 percent in soft terrain, which is also positive for both the environment and profitability.