SCA is currently building a new container port in Sundsvall. The port lies directly adjacent to the logistics park, and will thereby be part of Sweden's most important transport hub. "More and more people are starting to see how the logistics investments are benefiting the entire region. Sustainable and efficient transport is important for encouraging companies to establish themselves here," says Jens Olsson, Technical Director at SCA.
Construction of the logistics park means that Sundsvall and the entire region will have much better conditions for logistics. In addition, the transport hub will be moved away from the city center, which is positive for the environment as well as Sundsvall's residents.
The logistics park investment means that Sundsvall Municipality is building a new intermodal terminal where freight can be seamlessly transferred between sea, rail and road. The municipality is also creating space for the establishment of logistics companies. At the same time, SCA is building a new high-capacity container port and the Swedish Transport Administration is making several investments in the rail infrastructure around Sundsvall.
"Overall, this will be a huge boost. We are a long way from the world market and many companies are totally dependent on cost-efficient and environmentally friendly logistics in order to operate here. Fantastic conditions for both SCA and other companies are now being created here," says Jens.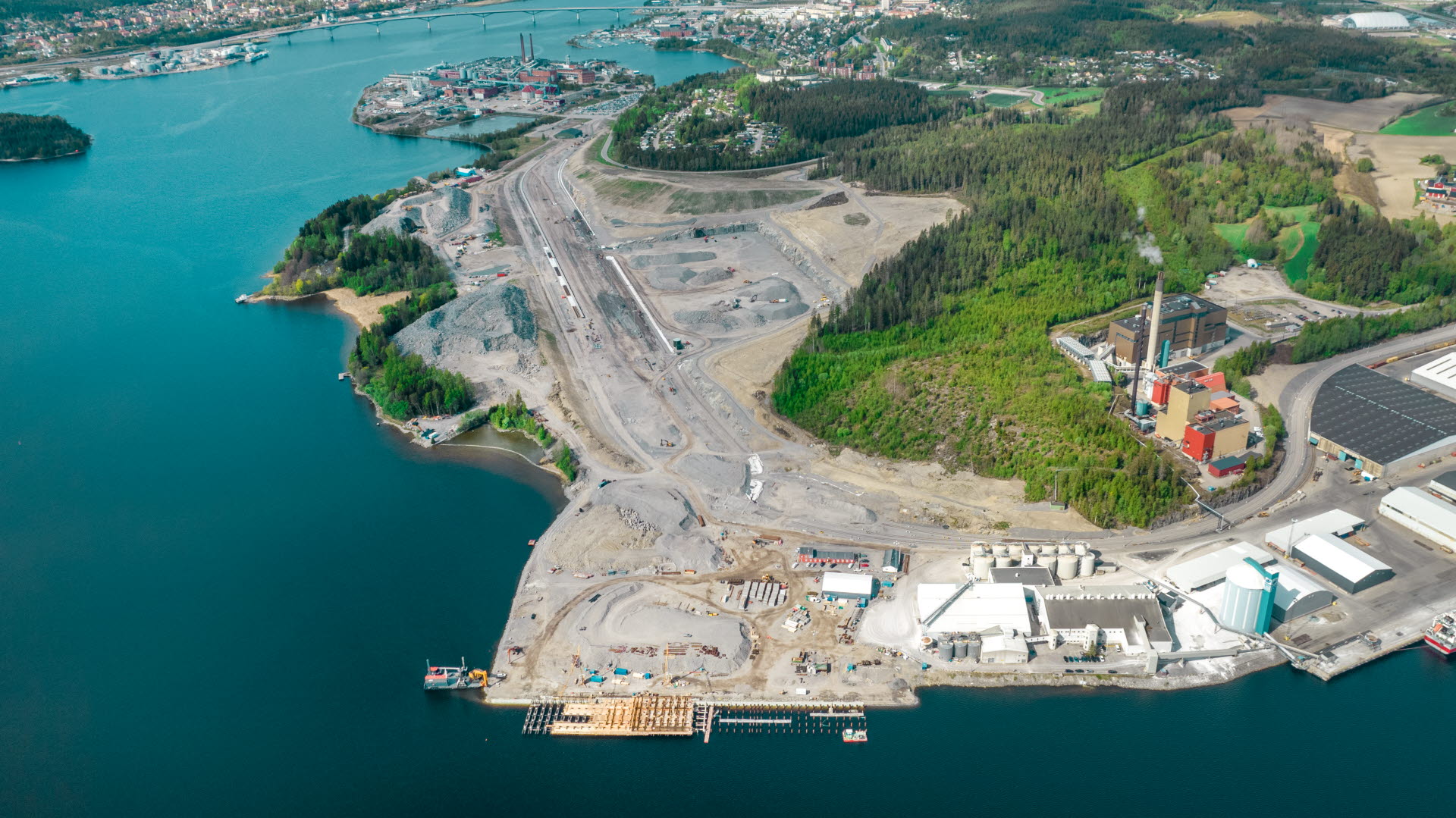 Deepwater port for large vessels
SCA's new container port will become neighbors with the Tunadal Port and have a water depth of 15 meters, making it the deepest port in the Bothnian Bay.
"The ability to accommodate really large vessels is important for making transport as cost-efficient as possible, since costs are lower per tonne of freight transported. But it's also extremely important from a sustainability perspective, since CO₂ emissions are also lower per tonne of freight transported," says Magnus Svensson, President of SCA Logistics.
SCA is also draining an area south of the current port to develop land and create new spaces for freight handling.
"Container shipping will gradually increase and since Tunadal Port is already very crowded, larger spaces will be welcomed. That will enable efficient handling of the type of freight that is increasing across the region. The container port will also make it easier for us to handle project loads effectively," says Magnus.
Reduced heavy-duty transport
The ongoing logistics investments will lead to a range of environmental benefits. Since more freight will be moved by rail instead of road, the amount of heavy-duty transport through central Sundsvall will fall significantly. SCA, for example, will be able to transfer a lot of its timber freight to rail. And every train will replace 50 truck loads through Sundsvall.
"The reduction of heavy-duty transport is another factor that will help to reduce CO₂ emissions. The air in Sundsvall will also improve," says Jens.
The reduction of freight trains through Sundsvall is largely due to the relocation of freight handling to the logistics park. And the Swedish Transport Administration's investments in the rail network will reduce the number of trains that have to travel into Sundsvall to shunt.
Debate has shifted
Relocation of the logistics hub has also created another benefit – the municipality can now rethink Södra quay at the entrance to Sundsvall.
"This is attractive land that will now be available for a wider range of applications. Use of the area was previously restricted by its proximity to the intermodal terminal. This makes it possible to develop more waterfront areas, which will hopefully increase the attractiveness of Sundsvall as a city. Moreover, the fact that we avoid handling dangerous goods in the city center is very positive," says Jens.
Construction of the logistics park has periodically sparked heated debate, but Jens thinks he has seen a shift in perspectives now.
"When Northvolt was considering establishment in the region, it became obvious that sustainable and efficient logistics were important in order for companies to operate here. It became clear that the logistics park is an investment in both growth and the environment. The logistics park will lead to investments in the region, create more jobs and contribute to growth and optimism."
Logistics park – a large collaborative project
Sundsvall Municipality, the Swedish Transport Administration and SCA are collaborating in the project to create a sustainable and efficient transport hub in Sundsvall. Municipal company Sundsvall Logistikpark AB is coordinating the project.
Container port
SCA is constructing a container port with large storage spaces and a deep-water quay of 15 meters, to replace the current depth of 12 meters. The container port is scheduled for completion in autumn 2023.
Intermodal terminal
Sundsvall Logistikpark is constructing an intermodal terminal adjacent to the new container port. The terminal will enable efficient movements of freight between road, rail and sea. In addition to large transshipment spaces, four railway tracks that can accommodate 750-meter long trains are under construction. Space for companies that want to conduct logistics operations is also being created adjacent to the intermodal terminal. The intermodal terminal is scheduled for completion in 2024.
Railway investments
The Swedish Transport Administration is making several investments in the rail network to enable efficient train movements to and from Sundsvall Logistikpark and the surrounding industries, without complicated and time-consuming locomotive turnarounds and shunting. This is scheduled for completion by the end of 2023.
* New railway in Maland
A new rail connection in Maland will link the railway from north to the Tunadal line. It will shorten the journey and make it easier for trains running to the intermodal terminal or the port. A new meeting point at Birsta is also included in this investment.
* Electrified railway
The Swedish Transport Administration is upgrading and electrifying the Tunadal line to Sundsvall Port. The rail connection means that trains will not have to travel to Timrå Central to turn around and change tracks.
* New railway in Bergsåker
A rail connection in Bergsåker will link the railway from west and north.
Text: Kerstin Olofsson
Photo: Håkan Sjödin