Major discovery of angel's hair lichen on SCA land
"50 hectares with rare angel's hair lichen. That's not a discovery you make every day," says Lena Högberg. She conducts conservation value inventories for SCA in Ångermanland and it was during such a project that she found the rare lichen.
Angel's hair lichen (Lat. Ramalina thrausta) was previously found throughout Sweden, but has strongly diminished over the years and disappeared from large parts of the country. The rare lichen has been csified as endangered on all red lists* published by the Swedish Species Information Centre since 2000. Most observations nowadays are in Ångermanland, Medelpad and Jämtland.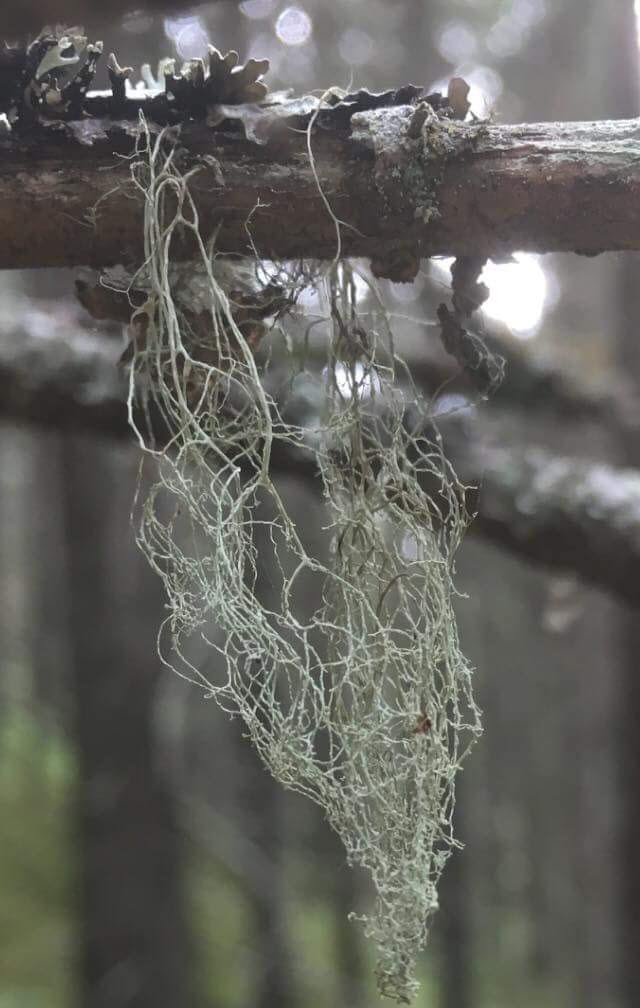 Damp, unspoiled spruce forest
"Angel's hair lichen thrives best in damp, old spruce forest that has been untouched for many years. It seems to thrive alongside large rivers. I have found it in gullies, for example.You can see it on low-hanging, dry branches of older spruce. It is somewhat white in color and almost looks like it has been sugar-coated. It doesn't grow large, often only a few centimeters long, but I have seen some that were about 20 centimeters," says Lena.
Lena is now retired and combines that life with conducting conservation value inventories for SCA. During her working life, she worked for the Swedish Forest Agency, which included performing key habitat inventories.
Several discoveries
During an SCA assignment at the end of the summer 2021, Lena made a small discovery of angel's hair lichen in Nordsjö, in the area of Långsele. A couple of months later, she made another discovery nearby.
"That made me start to wonder and I wanted to investigate further. Angel's hair lichen is rather unique and I had now made two discoveries in roughly the same area. I began looking at the map to see where similar forests were located and found this large area. So I went there and began walking around in the forest, which is on a downward slope to a river. And in the end, I found several angel's hair lichen in a large area of about 50 hectares," says Lena and adds:
"It is the largest discovery I have ever made, so it felt rather exciting. I was happy for several days after! So I called Andreas Renöfält, who is an ecologist at SCA, and asked if he thought that SCA had 50 hectares with angel's hair. No, he replied. Oh yes, I said, you actually do! It was a fun moment! My discovery has now been registered in the Artportalen database."
Forest set aside
The forest where the angel's hair lichen is present was formerly earmarked by SCA for single-tree selection in its map register.
"This means that you can always have forests with trees of all sizes and that less than 30% of the trees are harvested every ten years," says Askia Sandberg, nature conservation expert at SCA and responsible for the areas where the lichen is, and continues:
"The fact that the forest was earmarked for single-tree selection indicates that there had been some previous vague knowledge of its value. Now that the inventory is complete, the area has largely been classified as a key habitat and we have designated everything as a voluntary set-aside to be able to preserve the angel's hair lichen. Lena also found other sensitive and rare species such as phlebia centrifuga and amylocystis lapponica, so we need to be protective of this area. It is also possible that the area will be proposed to the County Administrative Board as a nature reserve, but that is a process that takes a long time.
Photo: Lena Högberg
* The Red List is a list of species and their status. Species on the list are considered to be endangered (critically threatened, endangered and vulnerable) or nearly endangered. The Swedish Red List is prepared by the Swedish Species Information Centre (SLU).