Two-thirds of forest owners' income is derived from sawmills, and a competitive sawmill industry is in many ways the engine that drives the forestry sector. This is why SCA has invested close to one billion kronor in the development and efficiency of its sawmills in recent years with the aim of maximising the value generated from each tree all times.
SCA runs one of Europe's most efficient sawmill operations and has a total production capacity corresponding to just over two million cubic metres of sawn timber a year. Continuous improvements, efficiencies and investments have improved competitiveness and contributed to greater volumes of sawn wood products being put on the market.
"We've always strived to be the best, and down the generations we've gradually become better at harnessing the power of the forest. And we'll continue to do so in the future by constantly pushing for improvement, investing in new technologies and daring to think in new ways," says Johan Olofsson, Technology and Operations Development Manager, SCA Wood.
New types of wood, new products
An excellent example of this approach can be found in Jämtland, at the Gällö sawmill, where SCA is currently updating the saw line and, with an investment of approximately SEK 18 million in new specially adapted dryers, is scaling up production of wooden products made from contorta pine. A ground-breaking project which, in the long term, will contribute to increasing the value of the company's approximately 300,000 hectares of contorta holdings.
"By increasing our production of contorta-based wood products, we also increase the climate benefit that the forest contributes as well as its economic value. In other words, we'll be able to create more long-lived and carbon-storing wood products, which in turn can be used for more sustainable construction techniques," says Olofsson.
Strengthened value chain
At the same time, only five kilometres away, at the company's planing mill in Stugun, an extensive reinvestment is being made. By replacing the facility's machines, which have been in operation since the 80s, with new state-of-the-art equipment, the goal is to increase production, raise the quality of what is produced and even better meet increased demand for climate-smart wood products.
"Through the increase in capacity brought about by the investment in the Stugun planing plant, the facility, when it is updated and ready, will handle and process a larger proportion of the timber sawn in Gällö, which in turn also strengthens our local value chain in Jämtland," continues Johan.
Increased digitalisation
However, the biggest investment in sawmills that SCA has been made in recent years is at Bollsta sawmill in Kramfors municipality. In this facility, more than SEK 600 million has been invested in new, state-of-the-art technologies and a completely new grading mill. This will contribute to increased production levels and increased yield and thereby increase the value of each log even more.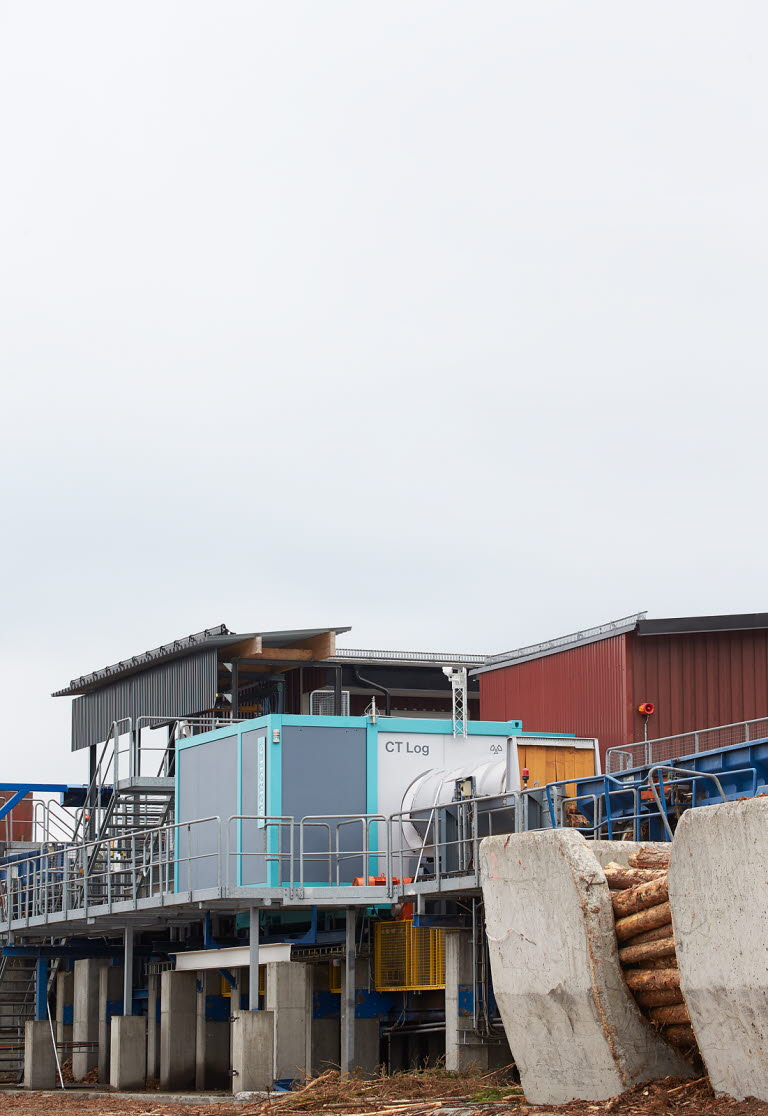 "The logs that we saw have often been growing in the forest for 70 to 100 years, and the fact that we can now see right through them with the help of advanced X-ray technology is a real game-changer. This means that even before we saw logs, we can determine which product they best suited for," says Johan.
At Bollsta, already now, all logs are processed through a CT scanner and are given a unique ID, or fingerprint, related to their processing. When the new adjuster is ready, this unique fingerprint will make it possible to recognise and follow specific logs further along the production chain, even after they has been split. This new technology results in higher quality and that the saw yield remains as high as possible throughout the entire chain.
"With the new grading mill in place in Bollsta, and all the technology up and running, we'll have the unique opportunity to create a full digital picture of our entire production process. All the data the new systems create offer us new ways to optimise our production and operational methods. In other words, we'll be able to determine much more easily exactly which log is best suited for which type of product, and ultimately we'll get more value out of a smaller volume of raw material. In combination with an increased production capacity, this allows us to create even more climate benefits, while at the same time giving us a real competitive advantage," says Johan.
Text: Victor Ihre Persson
Photo: Victor Ihre Persson