SCA, winner of the "Carnegie Sustainability Award"
SCA is awarded for the company's sustainability work with the Swedish forest. In the motivation for the award in the category "Large Cap", it is emphasized that SCA's forest is 100 percent certified through FSC and PEFC, that SCA is already clearly climate positive and has clear future goals for climate work.
The winners of the Carnegie Sustainability Award 2022 were presented today, May 31, and SCA was awarded for its sustainability work in the large company category. As Europe's largest private forest owner, with 2.6 million hectares of forest land, SCA contributed a positive climate benefit equivalent to 10.5 million tonnes of carbon dioxide in 2021.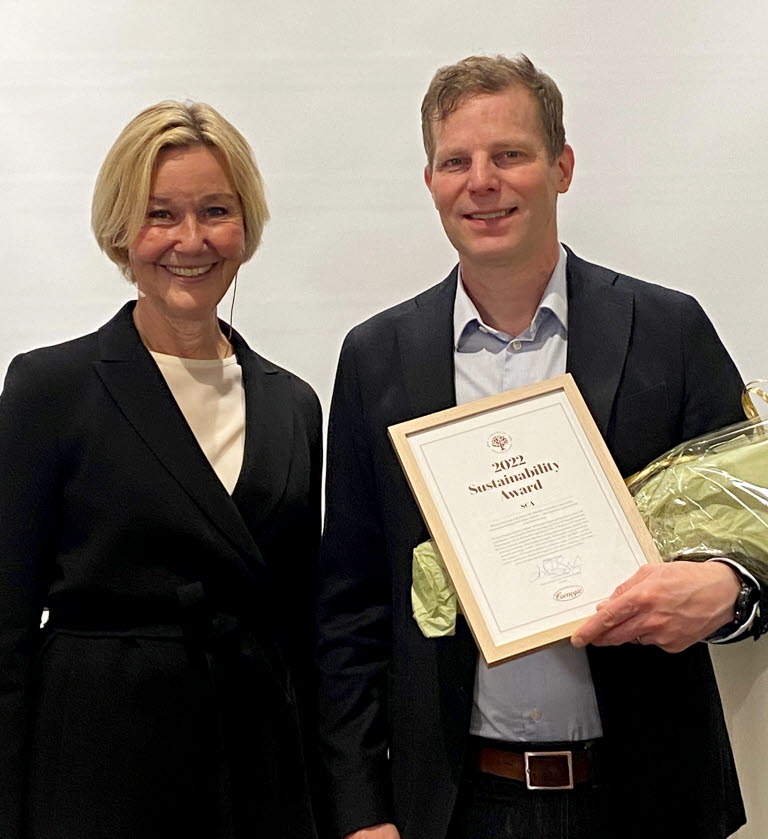 The motivation from Carnegie highlighted the fact that 100 percent of SCA's forest is certified through FSC and PEFC, which aims to promote long-term sustainable forestry.
Hans Djurberg, Head of Sustainability, accepted the award on behalf of SCA.
"We have worked purposefully, persistently, and successfully to ensure that our forests grow steadily and that the use of the forest creates the greatest possible climate benefit. It is also what ensures that raw materials can be used in a sustainable way from the forest, to create products or materials that replace what is currently made from fossil or finite raw materials," says Hans Djurberg.
"A praise especially to all our employees who continuously contribute to our resp
onsible forestry, and in our industries that create value from the whole tree," says Hans Djurberg.
In addition to SCA's certified forests, and the company's large generated climate benefits, the motivation also highlighted clearly set future goals. Examples of such goals are increased climate benefits and goals of zero waste, a fossil-free value chain and increased electricity production through wind power.
"The transition from the oil economy towards an economy where bio-raw materials and fossil-free electricity are in focus and accelerating, there SCA is a part of the development. In this transition, the business benefit goes side by side with the benefit for society. When the northern forest gains a more important part in the economy, we want to be involved to create," says Hans Djurberg.