Culturally modified trees and newly discovered ancient remains were the focus of this year's reference group meeting in SCA's Peltovaara conservation park in Norrbotten. "A great day with many rewarding conversations," says Mariana Jussila Wahlberg, who is responsible for the park.
This year's reference group meeting in SCA's Peltovaara conservation park in Norrbotten took place on an unusually warm and calm October day. Among the nine participants were representatives from the Norrbotten County Administrative Board, the Swedish Forest Agency, Sveaskog and the Swedish Society for Nature Conservation, as well as personnel from SCA.
"There was a good turnout, which is necessary for garnering different opinions about how the park can be developed," says Mariana Jussila-Wahlberg, nature conservation expert at SCA. "Unfortunately, representatives from the folklore society were unable to participate this year, which was a shame considering their strong commitment, and Gällivare Municipality was also forced to cancel. The Unna Tjerusj Sami community were also unable to participate. We always invite Unna Tjerusj since the park is inside their reindeer herding area, and the area is rich with Sami ancient remains."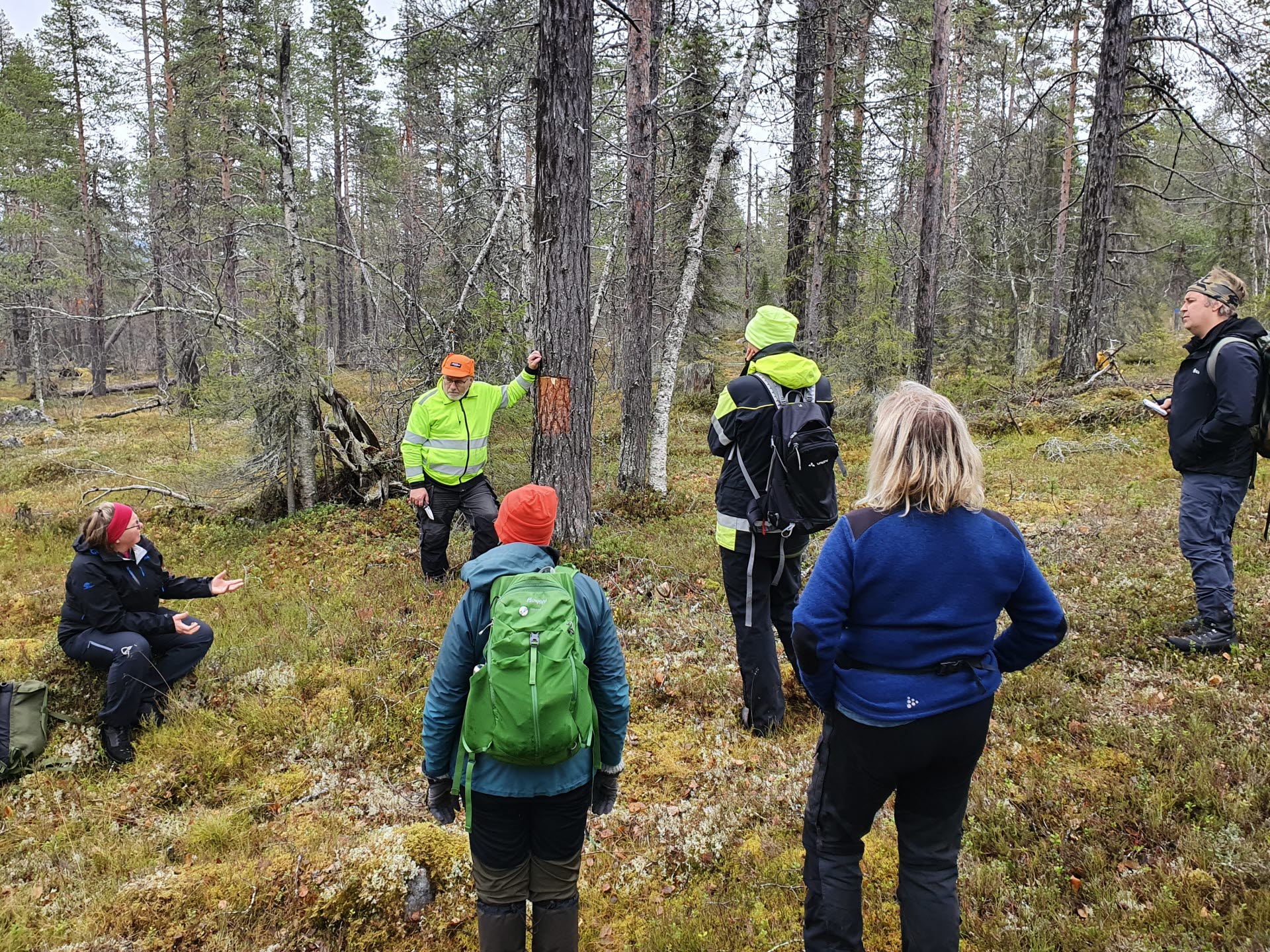 Presentation of culturally modified trees
The main theme for this year's meeting was culturally modified trees (CMTs), under the guidance of Mikael Jakobsson, curator with a Sami specialization at Lycksele Forestry Museum.
"As mentioned, Peltovaara has many ancient remains that are connected to the life and culture of the Sami people. Mikael provided us with great insight into CMTs, which were of great significance for Sami people. He also demonstrated the process of culturally modifying trees to show us how it is performed, and showed us specially made utility knives made from reindeer antlers," explains Mariana.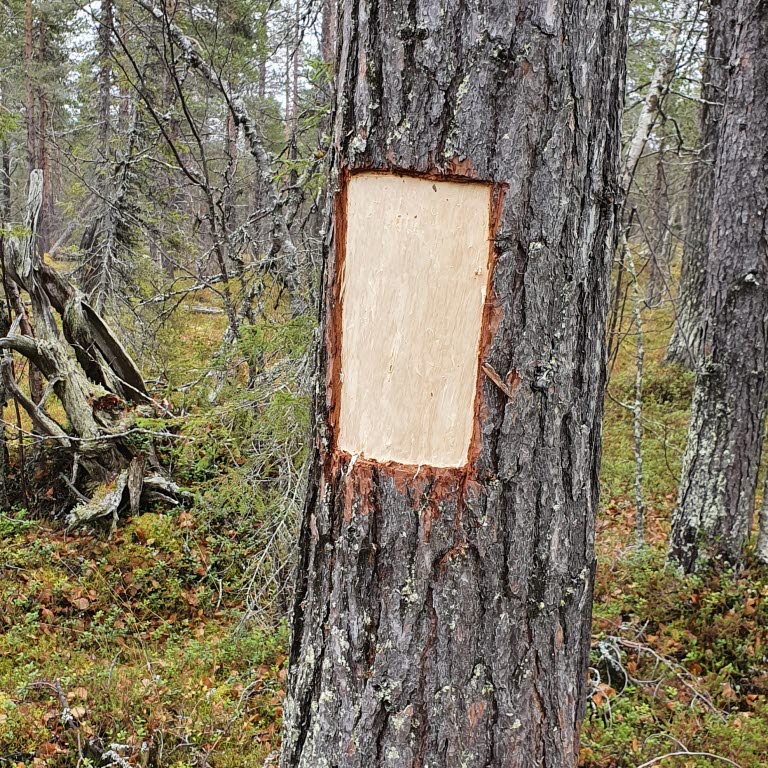 Evidence of CMTs can be traced back to the Sami people who harvested bark to use as food supplements or to store sinew thread. The process was performed on pine trees, leaving the tree with a kind of cut out window, but not one so large so as to risk killing the tree.
"Mikael explained that the Sami people harvested the bark in June, when the trees are producing sap and contain more vitamins. It was the inner bark of the pine trees that was harvested by scraping away the outer rougher bark while the white bark inside was collected and dried to then be processed. The bark, which was used as emergency food in the farming culture, was a delicacy for the Sami people and an important food supplement," says Mariana.
The group were able to taste the bark that was harvested in the spring and then roasted, and Mikael also removed bark from a nearby pine tree.
"The spring bark was delicious, but the autumn bark wasn't as tasty, and it is also lacking in nutrition," says Mariana. "There are few people today who have knowledge about CMTs, so it was an interesting talk."
An unexpected discovery
At lunch, the group made an unexpected discovery from a bygone age.
"Right where we were sitting, it turned out that there were remains of a Sami fire pit that could be found in a goahti. It was an unexpected ancient remain that has now been registered. According to Gunilla Edbom at the County Administrative Board, there are indications that the goahti served as a permanent residence. The location seems to already have been popular a long time ago," says Mariana.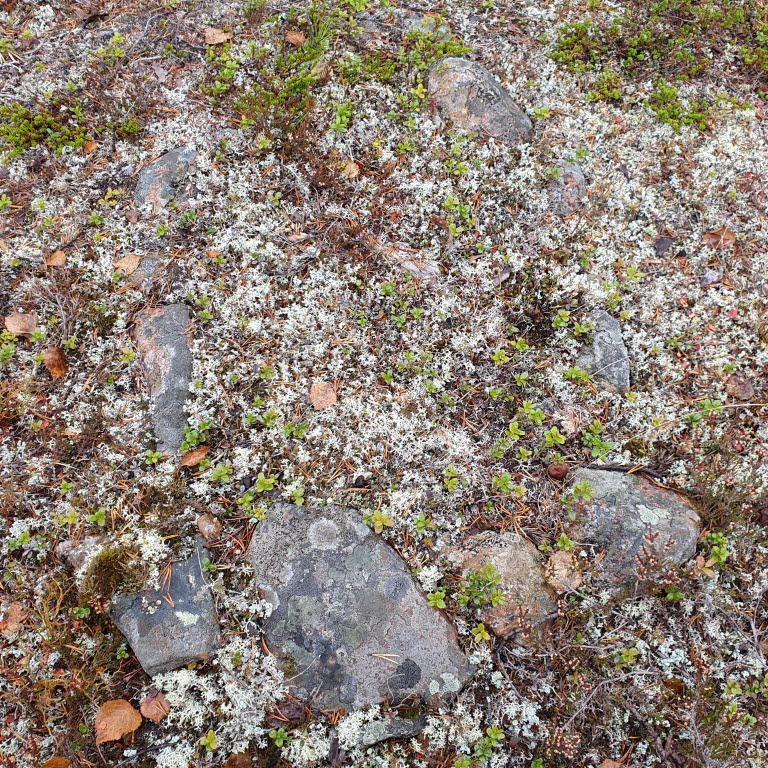 The conservation park contains many trails for visitors. The blue trail passes many Sami remains while the red takes you to the Akkavaara mountain. The yellow trail is called the forest worker pathway because it leads to a forest worker cabin. The white trail leads to the potato field and the guest cabin, that was fitted with a new base and floor in the summer under SCA's initiative.
"We also provide the folklore society with resources so that the meadow can continue to be mowed to make hay every year, which benefits the flowers," says Mariana.
Planning for a children's trail
The yellow trail is about one kilometer in length, and SCA hopes to develop it into a children's trail to attract families to visit the park.
"In the park, many people visit the old Aborrträsk settlement from 1757, and I believe that a family trail close to this area would be appreciated," says Mariana.
The bark of pine trees has also been stripped in the park in different ways to accelerate the ageing process and produce new deadwood. Deadwood is in short supply in many forests but is very important for many species of insects, mushrooms and plants.
"We also hope to carefully carry out a prescribed fire in a small area, together with the Country Administrative Board. These are necessary for the forest, but since there are many Sami remains present we want to be cautious and find a burning method that does not damage them," explains Mariana.
Serves as a forum
Mariana was pleased with this year's meeting.
"It is always fun to meet and discuss what has been and what needs to be done. Our parks are to serve as a forum for different interests and contribute to, for example, exploring new methodologies, alongside the efforts to preserve and develop nature and cultural heritage."
Photo: Andreas Renöfält och Ulf Hallin