SCA is hosting a research project into veteranisation on its land, which is being conducted by the Mid Sweden University. The aim is to study the best methods to accelerate the formation of wood that is normally only found in old trees, to recreate habitats for endangered species.
Veteranisation entails knowingly damaging living pine trees to accelerate the aging process. The trees can then develop as long-living, resin-impregnated snags, known as kelo trees or silver pines, when they eventually die.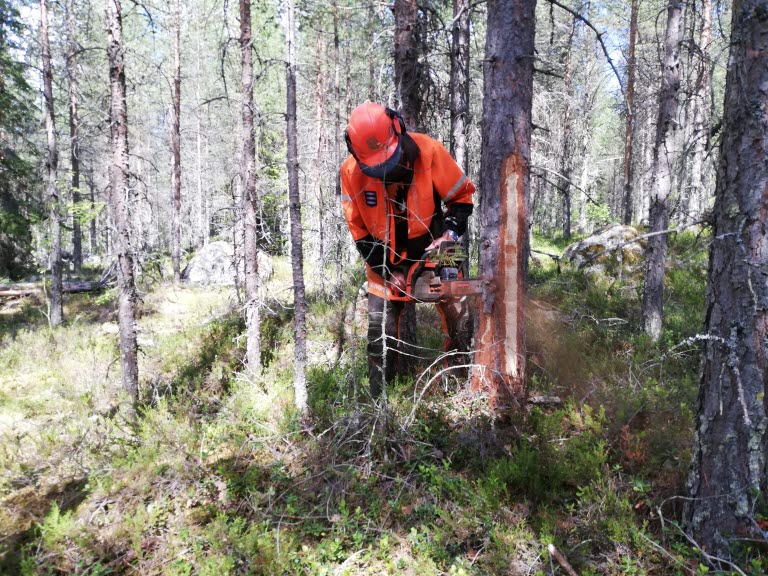 "When we veteranise a tree, we mimic the damage pines trees were exposed to in the past, when forest fires were much more commonplace. The damage causes the pine trees to grow slower. The measures also result in the formation of more tar substances, and resin-impregnated pine trees with high levels of resinous wood are very resilient to rot. This means the trees remain in the forest for longer, both as standing and fallen dead trees, and provide sustenance for many species," says Mattias Edman, senior lecturer in ecology at the Mid Sweden University in Sundsvall, who is running the research project.
Help for endangered species
Old fire-marked pine trees are extremely important habitats for many endangered species of wood-decay fungi, insects and lichen. But, fewer of these pines trees are now present in the forest and the living space for many species has shrunk.
"When we recreate kelo trees, we are helping endangered species that are dependent on these trees for their survival," says Mattias, who is happy that SCA is hosting the project on its land.
"SCA has done a great deal of work with veteranisation as part of its nature conservation activities. It was therefore natural to ask if the company wanted to take part. I have benefited greatly from SCA's nature conservation experts."
Nine trial sites
Last summer, SCA selected nine trial sites together with Mattias in the Märlingsberget and Njurundakusten conservation parks, which are located in Jämtland and Medelpad, respectively.
"We are testing five methods of veteranising trees, whereby SCA has used a chainsaw to damage tree trunks. The tests include two ways of barking, whereby two types of strip barking were carried out on the trees and two types of girdling. Finally, the crowns of some pine trees were cut, which also accelerates aging," says Mattias.
SCA has damaged a total of 270 pine trees that are about 50 years old. Control trees were also chosen and these were left untouched, to compare damaged and undamaged trees.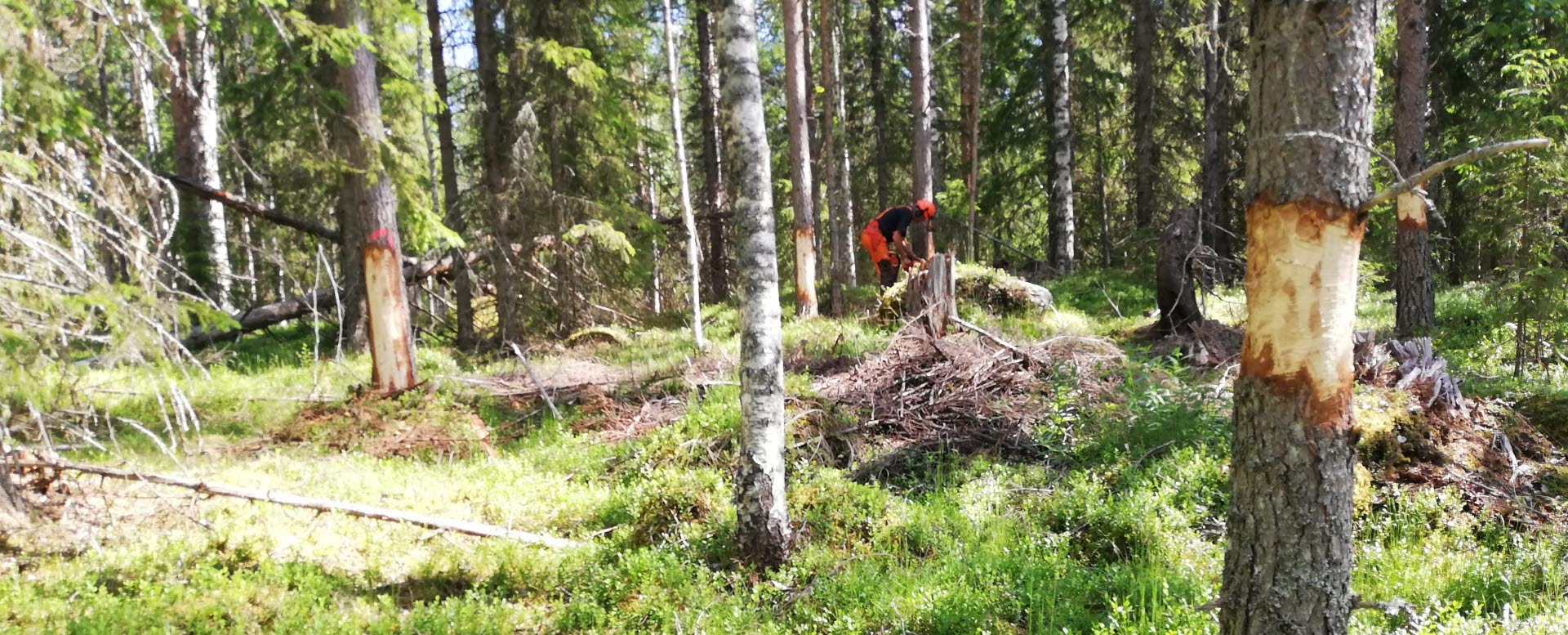 Develop guidelines
Mattias will be monitoring the damaged trees for several years to see how they develop. The aim is to draw up guidelines for the veteranisation method that produces best results. An initial analysis of the wood will be conducted already after two years.
"I will measure levels of resin substances and how they are distributed in the wood. I can hopefully measure differences between the trees, so I can offer clear recommendations about the method that is most effective and produces the strongest resin impregnation."
Of interest to SCA
The project is of interest to SCA in several ways.
"We work with some controlled burning. But it is not practical to conduct controlled burning in all of the forest that is marked by fires and would benefit from new fires. Instead, we are working to mechanically damage pine trees in an attempt at mimic fire damage and create new resin-impregnated wood. This project could improve and support the significance of our current nature conservation work," according to Emelie Westin and Håkan Blomqvist, two of SCA's nature conservation experts who have helped Mattias with his project.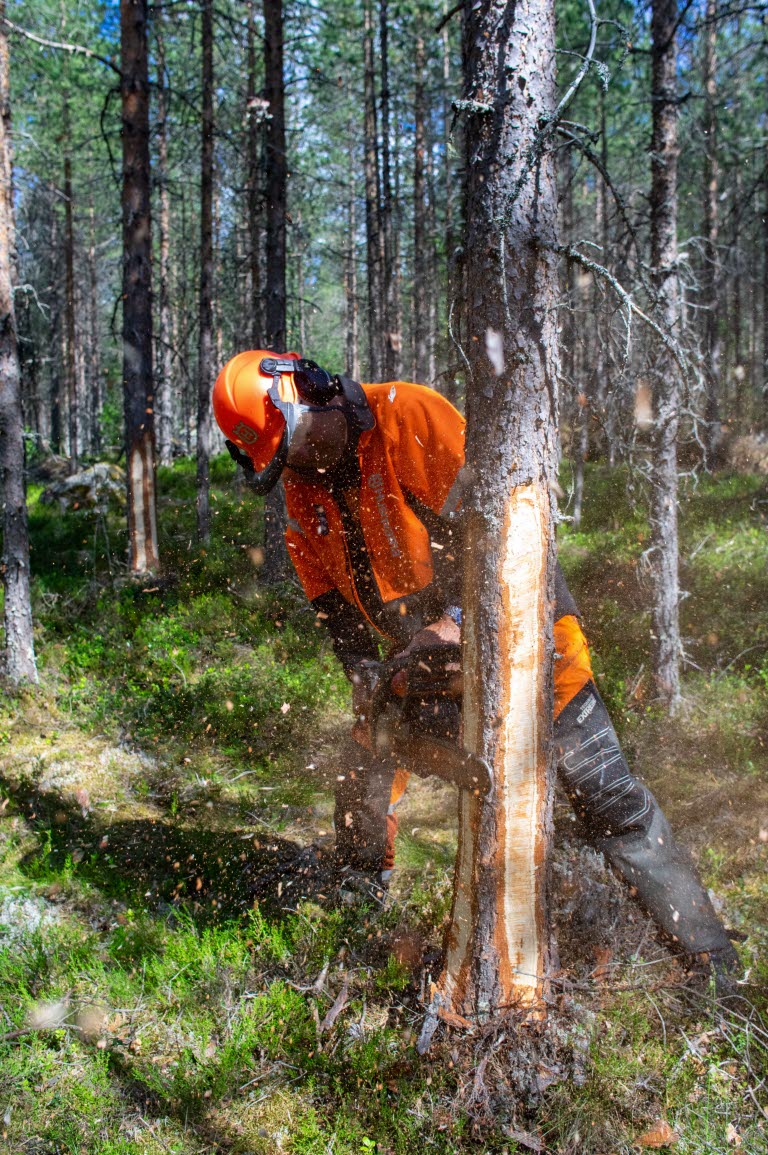 "Veteranisation could also increase the nature conservation benefits of the trees that we leave standing as part of general conservation measures we conduct during harvesting operations. If we begin veteranisation measures at an early age on selected trees then this could also impact the quality of the eternity trees left in the future. Overall, it may mean we, and other operators, can improve the quality of productive forestland from a conservation value perspective," says Emelie.
Takes a long time
However, the creation of dead wood is a project that takes a long time.
"Resin impregnated pine trees can get very old," states Mattias. "They can first grow for several hundred years as living trees and when they finally die the resin impregnation means they can survive for several hundred more years before they decay. It remains to be seen how much we can speed up the aging process using our methods. This certainly will not be finished in the three years this project encompasses, but we will continue to monitor the trees for many years to come. And the most important aim of the project is our attempt to create damaged and dead wood to help the species that need this for their survival."
Photo: Håkan Blomqvist, SCA, and Mattias Edman, Mid Sweden University.