Last year, SCA gave a Christmas gift to Children's Home's school building project in Ghana. The Christmas gift consisted of a whole container of solid-wood products. We return to Ghana to see how the Swedish spruce has been used.
We previously wrote about the Christmas gift that SCA's business unit Wood donated to Children's Home's project in Ghana last year. Children´s Home was founded by Maria Lemon, who is deputy site manager at SCA Wood Scandinavia Tunadal, and her daughter Sara Svensson. Children's Home has been around since 2014, when they started sponsoring children to go to school in Ghana, and has since expanded with more aid projects in the country. At Christmas 2019, they collaborated with SCA to deliver an entire container of solid-wood products to an orphanage.
Commitment that builds a better world
The container with spruce timber was sent from Tunadal's sawmill and grading mill outside Sundsvall to Ghana. The transportation was also handled by us at SCA and the part of the company that provides logistics solutions. Children's Home took care of the administration.
Pictures from the arrival of the wood and the school desks that were built.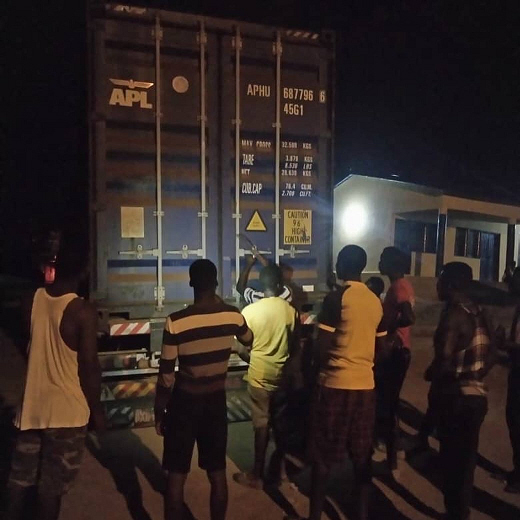 To save money, no wheel loader was rented when the container arrived. Instead, about 20 people from the village lined up and unloaded from the container, one board at the time.
"They had never used stickers to pile up the timber before. We gave them a quick course over the phone. I think they succeeded quite well!" Says Maria Lemon, one of the founders of Children's Home and deputy site manager at SCA Wood Scandinavia Tunadal.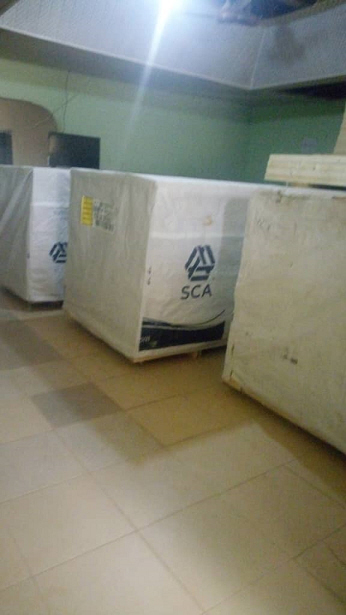 "It is important to keep the packages from the sun, we said. As a result, they brought some of the timber packages indoors as well! The picture shows one of the large halls in one of the orphanages that was filled with spruce wood", says Maria Lemon.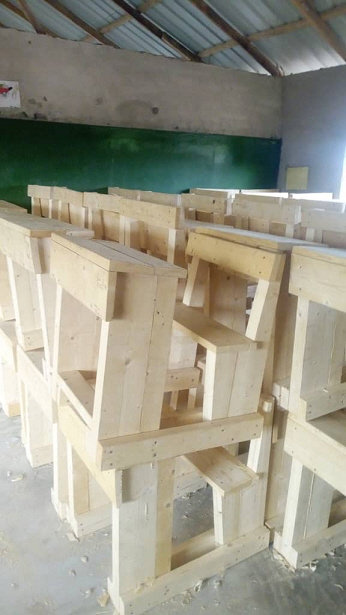 Several local carpenters were hired to build the furniture for the school. Fortunately they had just finished when the Corona Pandemic entered the country. The furniture was made from pictures of school furniture in Swedish schools that Maria and Children's Home showed the carpenters.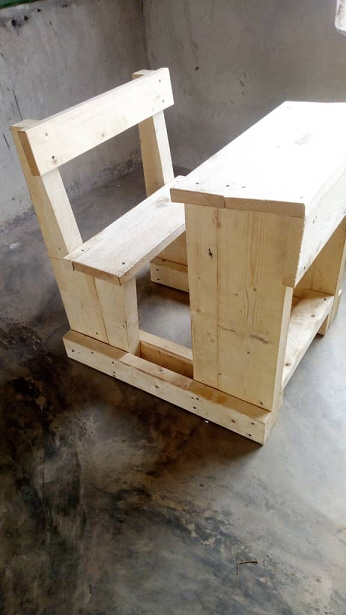 One of the school desks that were built. Two children sit at each desk (when there is not a corona pandemic going on).​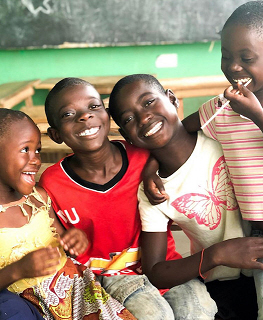 Some of the children who will use the hand built school desks made of Swedish spruce.
What are your plans for the future?
"What we want to do next is to collect a little more money to hire carpenters again. They will build a shed for storage for the school (school materials, equipment, training gear for example) and they would also really need a shed for food storage", says Maria Lemon.
"At Children's Home we are also working with two other projects. We are raising funds for a home in Accra for children with HIV and the construction is currently underway. Then we participating in a collaboration with ForumCiv/SIDA where the purpose is to hold free seminars in poverty areas. The project will reach around 80,000 people in different areas of Ghana so it is a large and important project", concludes Maria Lemon.
Published 12/14/2020