Last Christmas, SCA's Tjäderberget conservation park in Västerbotten had an unexpected visit from the Czech Republic. Anna (Aniéka) and Ondra, two tourists in search of the northern lights, managed to get to the park and celebrated Christmas in the guest cabin. Now we'd like to get in touch with them!
The Tjäderberget conservation park is 25 kilometers southwest of Lycksele, on the border between the municipalities of Lycksele and Vindeln. You reach the park via the E12. The park encompasses 1,303 hectares of beautiful pine-dominated forests and mixed hardwood forests. The area is quite hilly with four large peaks surrounding the Inre Kroksjön lake, where SCA has an open guest cabin with a stove and four beds for visitors.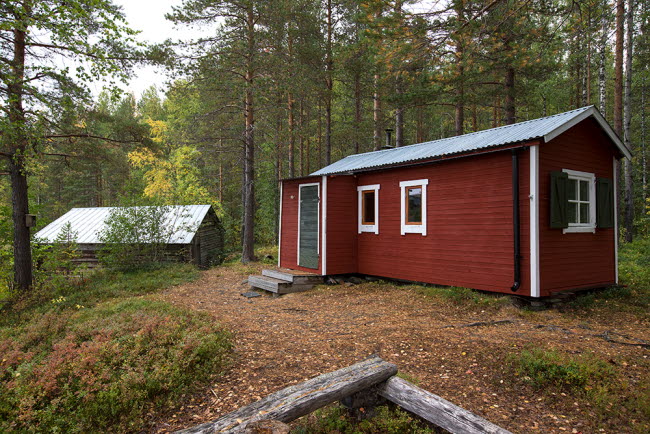 This little cabin is where two tourists from the Czech Republic celebrated Christmas in 2020. They seem to have had a successful visit, judging by their lovely message in the guestbook.
THANKS FOR A FANTASTIC CHRISTMAS!
Two lunatics who had never met each other before decided to travel to Sweden. After meeting at the airport, they hitchhiked 700 km north in search of the northern lights. Fortunately, they succeeded!
This cabin has been our protection against enemies, our friend in trouble, our kitchen, bedroom and living room but most of all our home! Thanks for a fantastic Christmas experience in the middle of nowhere. Unfortunately the time has come to travel again, to new experiences. We hope to find a cabin even half this cosy again.
Anna, Ondra and snowman Hugo.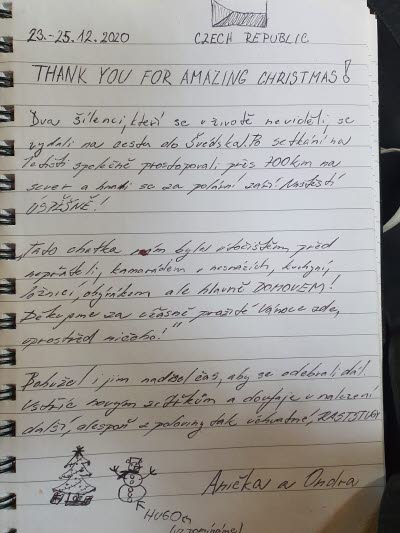 Now we would love to find Anna (Aniéka) and Ondra to hear more about their exciting journey and visit in Tjäderberget. E-mail us at info@sca.com if you know who they are.
The guestbook message was translated from Czech with the help of one of SCA's employees.
Published 4/14/2021