Two Czechs celebrated Christmas in Tjäderberget's conservation park. They left a lovely message in SCA's guest cabin and we were eager to get in touch, and as luck would have it we found them just a couple of hours after we posted on Facebook.
The story begins with a greeting that Anna and her accomplice Ondřej left in the guestbook at the guest cabin in SCA's Tjäderberget conservation park, between Umeå and Lycksele. The message was discovered by an SCA employee during Easter, which a colleague helped him translate. Then, because we were eager to contact our visitors to hear how they managed to end up in Tjäderberget, we made an announcement on SCA's Facebook page. Just a couple of hours later, we were able to contact Anna.
See the northern lights
It turns out that Anna, who works at a preschool and loves to travel, met Ondřej in a Facebook group dedicated to traveling. When they both realised that they wanted to go somewhere for Christmas, they decided on Sweden, hoping to see the northern lights.
"I flew from the Czech Republic while Ondřej flew from where he lives in England, and we met at Arlanda airport. It was my second visit to Sweden, and his first. We weren't worried about the coronavirus pandemic, but we were still careful to follow the rules. Still, Sweden's restrictions at the time weren't as stringent as what we were used to and the risk of infection was lower than where we were coming from," says Anna.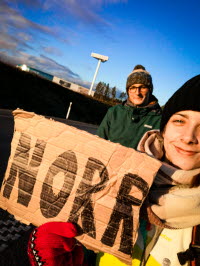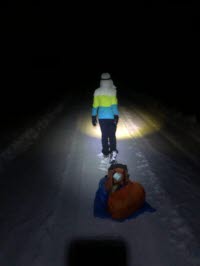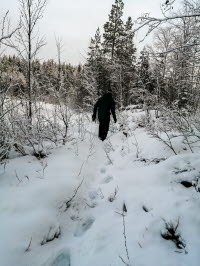 Hitchhiked northwards
They managed to hitchhike northwards, though it probably took a bit longer than they had expected due to the coronavirus.
"Our original idea was to go all the way to the Arctic circle, but we realised we didn't have enough time. But we didn't want to spend Christmas on the E4, either, so we improvised. We ended up in Vännäs, where we took a bus to Tjäderberget. We used the Naturkartan app to locate the guest cabin in Tjäderberget, which is how we knew there was a cabin there. But, of course, we didn't know if it would be open..."
Hiked in snow and darkness
After being left off at the entrance to the conservation park along the E12, Anna and Ondřej hiked for around an hour in snow and total darkness before they reached SCA's guest cabin at Inre Kroksjön.
"What a relief it was to find that the cabin was open! And that it was large and even had a stove."
They spent Christmas Day in the cabin and the surrounding countryside.
"It was a different Christmas for us, compare to what we are used to at home. We melted water on the stove, ate crackers with beans in tomato sauce for lunch, washed our clothes and bathed in the snow by the lake. We hiked for a bit in the woods and made snow angels. We also found some skis that we borrowed and I managed to make it down a small hill. In the evening, we decorated a tree outside the cabin. Finally we could celebrate with gingerbread and beer we had brought with us. Even though our families were far away, it was a genuinely magical experience."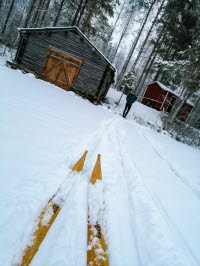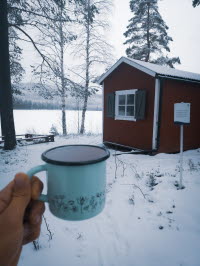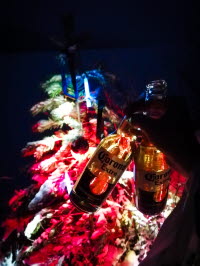 Appreciated the nature
Anna especially appreciated the beautiful nature and untouched forests of Tjäderberget. The park features pine-dominated forests and mixed hardwood forests, and four peaks that surround the Inre Kroksjön lake.
"In the Czech Republic, a lot of the forest has been destroyed by insects, which is heart-breaking to see. Or the land is used for farming or new construction. In Sweden it's completely different. There are so many dense forests, which we found very energising."
But how did it go with the northern lights?
"Oh, yes, we got to see the northern lights on the second day of our trip, when we ended up on the Höga Kusten bridge," explains Anna. "There we were, in the middle of the night, tired and without anywhere to sleep, when suddenly the northern lights appeared. We were speechless and just stood there, hearts pounding. It was an incredible experience."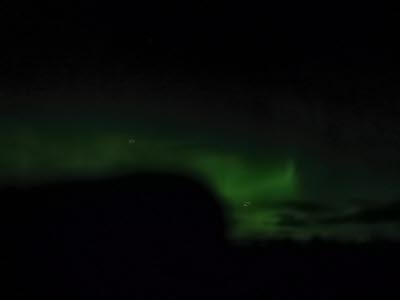 Anna hopes to return to Sweden in the future.
"I really hope so. There are so many wonderful destinations I want to see, but there are certain places I really want to visit again. Sweden, and Tjäderberget, is one of them."
Photo: Anna Sedláková and Ulf Hallin (top picture)
Published 4/27/2021