SCA and BirdLife Medelpad have built nesting boxes and platforms for Ural owls and great gray owls. The aim is to provide the owls with nest sites on SCA's land and to encourage more breeding.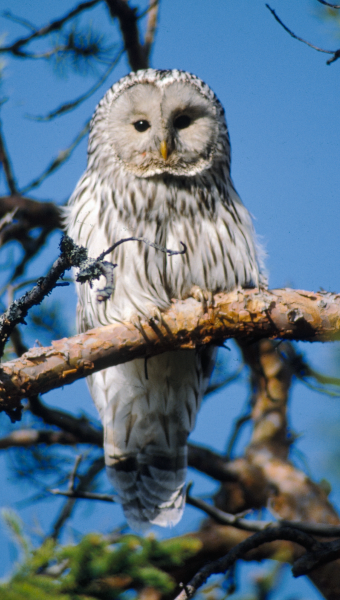 SCA and BirdLife Medelpad have built nesting boxes and platforms for Ural owls and great gray owls. The aim is to provide the owls with nest sites on SCA's land and to encourage more breeding.
SCA and BirdLife Medelpad already have an ongoing collaboration to benefit birdlife, where SCA is restoring two wetlands and promoting deciduous forests in another area. BirdLife Medelpad is providing bird inventories before and after the measures. The collaboration has now been extended to also include Ural owls and great gray owls, known collectively as great owls. The project aims to see whether it is possible to improve the prevalence of great owls in SCA's forest holdings.
"Ural owls are mainly found in coniferous forest with openings in the form of marsh land, watercourses or clearcut areas. A classic Ural owl forest is an old growth forest with high pine trees, and containing dry, dead and twisted high stumps reminiscent of chimneys. These high stumps are hollow at the top and Ural owls build their nests at the bottom of this cavity. However, these hollow stumps are unusual in productive forestland and Ural owls have difficulties finding natural nest sites," explains Peter Berglund, Project Manager at BirdLife Medelpad.
Installing nesting boxes
If no natural nest sites are available, Ural owls are happy to use large nesting boxes that are approximately 60 cm high and with a base of 35x35 cm, placed 3–5 meters above the ground.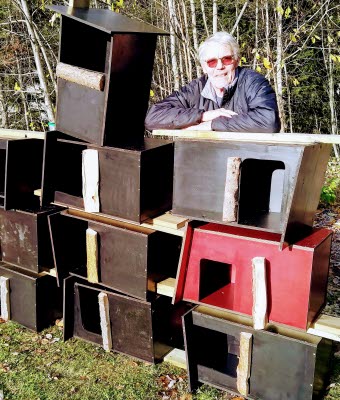 "I have built ten nesting boxes that I then installed at various locations in SCA's productive forests in Medelpad together with Per Helttunen, who is conducting the bird inventory," says Peter. Each nesting box has a warning label. Ural owls are very aggressive when they have young in the nest and may attack people if they come too close.
In addition to the Ural owl nesting boxes, ten platforms were also installed and a further ten are planned to help the great gray owl.
"The platforms we are installing resemble the great gray owl's natural nesting sites, which are old nests built by birds of prey, such as goshawks. The platforms are approximately 45x60 cm with surrounding panel, and we placed these in trees with high conservation value to offer the owls favorable conditions for breeding," says Peter.
Annual inventory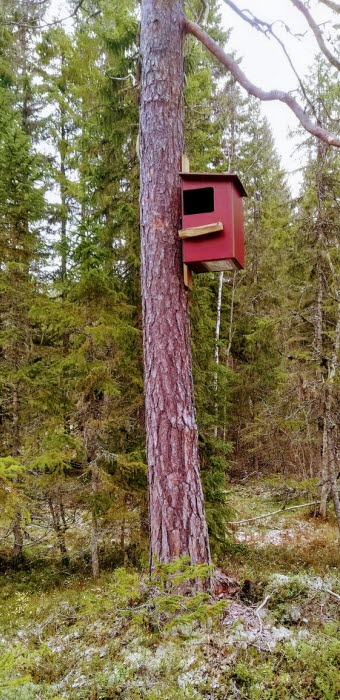 The great owl project will run for five years and BirdLife Medelpad will conduct annual breeding inventories during the spring, which will be reported to SCA and to SLU's Artportalen.
"We will set off when the snow has melted. If there are young, then they will eventually be ringed by the county administrative board," says Peter.
The study aims to see if the owls use the new nesting boxes and if more great owls begin breeding.
"We will take measures to protect the species and habitat if we see that owls have taken up residence in the nesting boxes, and will not disturb them with forest operations in the local area between March and midsummer," says Emelie Westin, nature conservation expert at SCA.
If the nesting box project is a success, SCA may incorporate the owls into its nature conservation activities.
"We can then help more owls by installing even more nesting boxes and platforms on our own. In Medelpad alone, a few hundred nesting boxes are needed to encourage Ural owls, which in turn can reduce forest damage caused by small rodents during years that are favorable for vole populations," says Emelie.
Offer benefits in forest operations
Both Ural owls and great gray owls are specialized in catching small rodents, mainly bank voles, and can be highly beneficial for forestry production.
"A Finnish study found that small rodents cause forest damage totaling about EUR 20m during a year with an abundance of voles, primarily on newly planted seedlings. Meanwhile, a single Ural owl family with young can eat approximately 250 kilos of vole during a year – so we can greatly benefit from encouraging the owls," says Emelie Westin.
Photo: Peter and Marianne Berglund, Olle Hedvall
Published 11/19/2020