An inventory carried out by SCA at their conservation park in Sörgraninge in Ångermanland has revealed that controlled burns in pine forests are beneficial to many species of insects. In total, 326 species made up primarily of beetles, including 23 red-listed species, were discovered.
SCA has carried out an investigation together with Lars-Ove Wikars, a highly experienced entomologist. Between May and August last year, 12 large insect traps were set up at three different controlled burn sites in pine forests in SCA's conservation park in Sörgraninge to conduct an inventory and find out which species thrive under such conditions.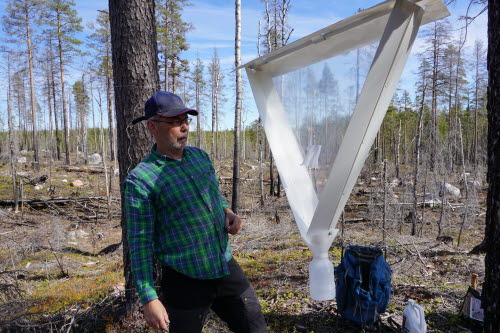 A good result
"The exercise proved very successful, discovering 326 species. Of these, 23 were red-listed species, meaning they are classified as threatened and vulnerable. For example, we discovered inocelliidae snakeflies, bius thoracicus and powder-post beetles, all of which are threatened species," explains Mikael Berg, district manager at Ångermanland's Forest District for SCA, who continues:
"It is nice to see that Lars-Ove's report has noted that the burns seem to be very successful due to the formation of dead wood, which favors many species who are declining in numbers. These areas will be important development spots for species who live on wood and benefit from controlled burns.
Critical measure
Controlled burns are a critical measure in the protection of threatened species. Many species benefit directly from fires, and there are additional species who benefit from the long-lasting effects of a fire. Most of these species live in dead wood and thrive in stands that are more open and feed off the warmth of the sun.
"Particularly with beetles, we have many species who are known to be dependent on fire, and there are many species of beetle that are red-listed," says Mikael.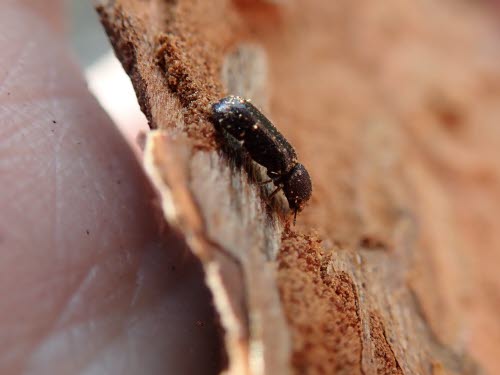 The investigation also revealed the presence of many flagship species linked to deciduous trees and natural forest, which Mikael is particularly pleased about.
"The burned areas that have been examined actually have a lack of deciduous trees, but the presence of insects indicates that there is plenty of deciduous forest ripe for conservation in the area. This indicates that we should continue to favor deciduous trees, and in doing so help these species to survive."
Harvesting before burning
Before the burning has took place, SCA harvested some of the trees in the specified areas. This is often an effective measure as the harvesting allows for more intense burns in certain areas.
"By harvesting to varying degrees, patches can be created that provide better results for the fires, since a higher kill rate in the tree layer favors species who live on wood. However, we don't want a burning that is so intense that it eradicates all of the pines, the aim is rather to make sure that there remains a mixture of dead, damaged and healthy trees after the burn," says Mikael.
Lars-Ove Wikars' report confirms that discoveries have also been made of two less welcome insects: common pine shoot beetles and metallic wood-boring beetles. These two types of beetles thrive in dense fires and a weakening of the pines by the fire, and their infestation causes pines to slowly die. Their presence can then cause an undesirably high mortality rate among pines after burnings.
"The metallic wood-boring beetles didn't exist at all in Norrland in previous decades, but they have been introduced together with the warmer climate," says Mikael. Making sure that the controlled burns are not too close to each other or in dense areas can avoid infestations of these insects. On the other hand, harvesting and burning of dense areas performed quickly can be beneficial, before the beetles find felling residue which they can use to spawn."
All of the insect discoveries from the investigation in Sörgraninge are registered in the Species Observation System (Artdataportalen) with the project name "SCA insect inventory of burned areas in Graninge conservation park (SCA insektsinventering av brandfält i Graninge mångfaldspark).
Pictures
Top picture: Lars-Ove Wikars with one of the insects traps. Photo: Mikael Berg.
The picture below shows a Stephanopachys linearis, one of the rare species that were found at the inventory. Photo: Lars-Ove Wikars.
Published 3/17/2020