SCA has taken new steps to protect the extremely rare ortolan species. 200 hollows with exposed mineral soil in some clearcuts in Ångermanland will make it easier for the bunting to protect its nest and find food for its young.
In the summer of 2019, the Ångermanland County Administrative Board carried out an inventory of ortolans with the help of competent ornithologists and SCA. The ortolan thrives in areas with impacted ground with exposed mineral soil. Some years ago, by looking for the bird in all clearcuts that had been scarified, SCA discovered warbling cocks in around nine of its clearcut sites.
"In two of the clearcuts in Sidensjö, three ortolans were discovered including one warbling male," explains Askia Sandberg, SCA's nature conservation expert in Ångermanland. "But grass and brushwood started to grow back in these clearcut sites making it hard for the ortolans to find food there. Nor were there any other suitable clearcut sites nearby that the birds could move to instead. We therefore decided to carry out excavation to help the ortolans."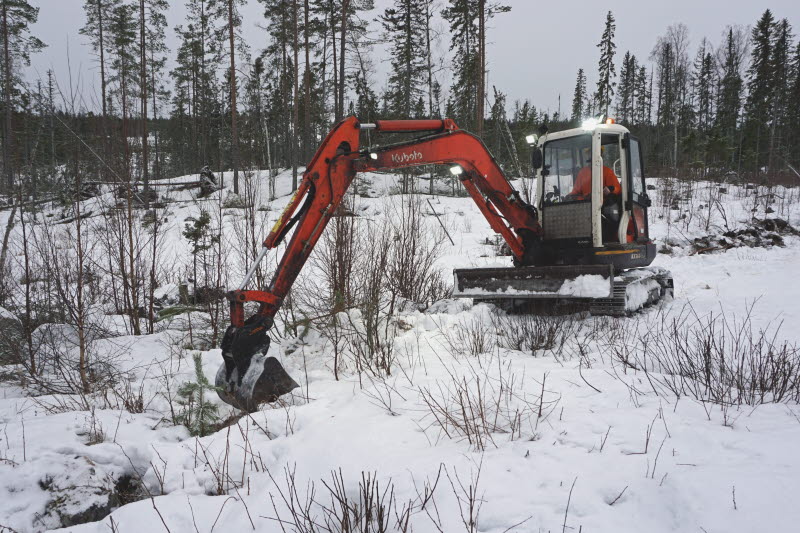 Digging hollows
Thanks to the mild winter with little snow, frost was not present on the ground in the clearcuts, making it possible to bring in an excavator.
"The excavator took to the roads by the clearcuts and then made 100 hollows or trenches per clearcut to turn the soil over, exposing the nourishing mineral soil," explains Askia.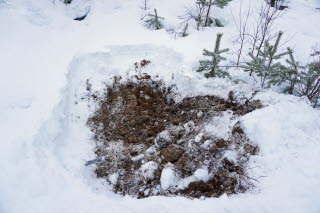 Hopefully in the spring, the exposed mineral soil will make it easier for the ortolans to find insects for their young so they can survive and build nests nearby.
"SCA has carried out similar measures at two clearcuts in Medelpad, and a lot more ortolans could be heard warbling the following summer, so we hope that our measures will also yield results," says Askia.
Sörgraninge Conservation Park
"When we carried out the inventory, we also discovered a warbling male in SCA's conservation park in Sörgraninge, which is of course fantastic. The conditions there are already favorable, so there is no need to dig any hollows. We will also burn an area close to where the ortolan was heard. Controlled burning is a good method for aiding the ortolan as vegetation is destroyed and patchy areas of exposed mineral soil can attract many insects," explains Askia.
Conditions were favorable in other clearcuts where warbling ortolans were discovered, and where freshly scarified clearcuts or hollows/trenches were in the immediate vicinity of the birds' nests. Consequently, there is no need to dig any hollows in these locations.
Photography: Jan Lindström and Mikael Berg
Published 2/13/2020