The companies presented at November 26 their business ideas and what they have achieved during the accelerator. The operations in this year's participating companies are digital cultivation systems, AI, processing of residual products and scanning.
Sustainability is a common subject for the five startup companies in the recently concluded program. Two of the companies are also using AI technology in their solutions.
"I am impressed by what I have seen, and also see that we can collaborate with all companies. Several of them make great social benefits and have a natural focus on sustainability. The projects have been good and they have been able to verify their ideas, so this has really been an accelerator like it is meant to be", says Gun Blom Lundgren, Cloud & Cognitive Swat Team Leader Sweden at IBM.
Digital cultivation in greenhouses
One of the companies, PlantVation, offers a fully automated multi-storey cultivation system. By growing forest plants in a completely enclosed environment, it is possible to drive plants all year round on a small surface regardless of climate, while at the same time being efficient with respect to the needed space.
"The accelerator has been incredibly valuable because we have worked closely with SCA, which is a potential future customer. Our many digital parts also make us collaborate with IBM, who helped us with the packaging of our offering. We have ongoing dialogues with stakeholders and in 2020 we hope to have our next customer", says Johanna Johansson, CEO of PlantVation.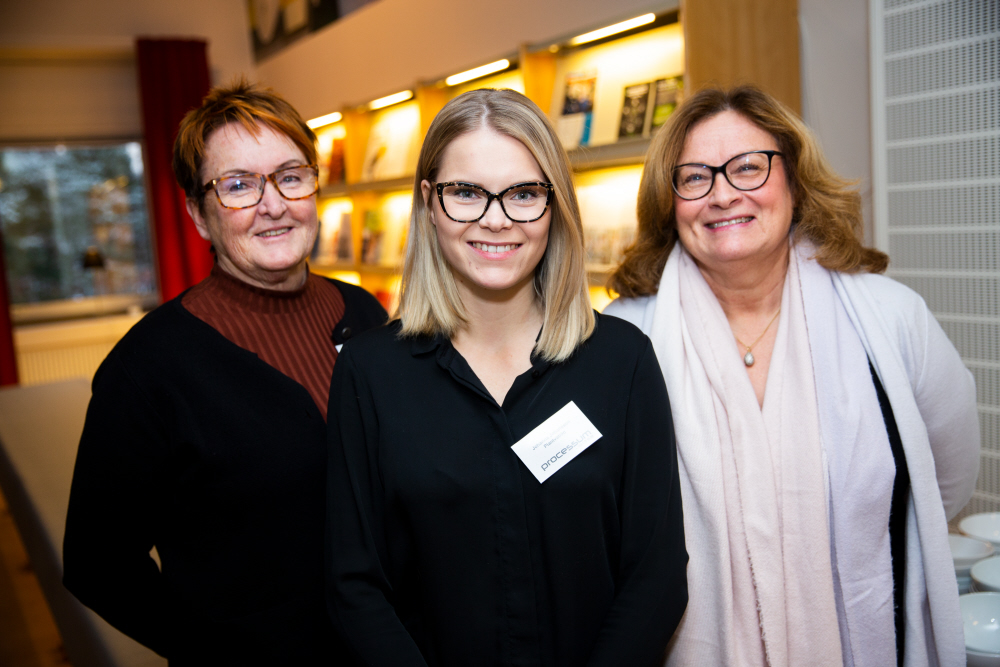 Monica Vestberg from Bizmaker, Johanna Johansson, CEO of PlantVation and one of five startup companies that participated in this year's Forest Business Accelerator, Gun Blom Lundgren from IBM.
AI tools are tested in project at Obbola paper mill
Another of the companies, Calejo Industrial Intelligences, has developed an AI tool to streamline the forest industry by optimizing processes.
"We are initially building a digital twin, a copy of how the process works in a digital world. There is a need to get to know the processes and understand how they work, to reach the best conclusion and with our solution you get that knowledge", says CEO Johannes Holmberg.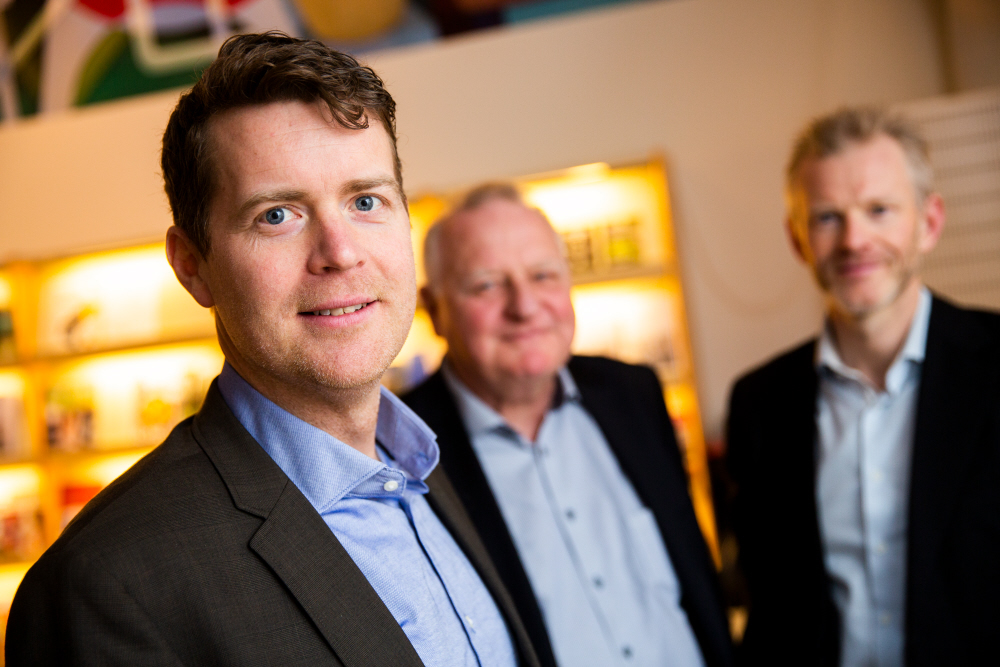 Johannes Holmberg from Calejo, behind him Carl Johard from Calejo and Magnus Viström from SCA.
For Calejo, the accelerator has meant collaborations with all three company partners of the accelerator. For example, a project is being carried out with SCA in Obbola.
"It's great that we could initiate a project very quickly and it's exciting to use AI as a way to optimize our processes and get them even more energy efficient, and at the same time learn more about AI. The accelerator is a way for us to conduct scouting and get in touch with new ideas and acquire new knowledge", says Magnus Viström, Innovation Manager at SCA.
After three successful years, planning is already underway for next year's Forest Business Accelerator, which opens for new applications on February 10, 2020.
"The companies that have been with us before are still running and we still have contact with them. Through the accelerator, more and more stakeholders from southern Sweden have been in touch with us, because they lack a forest networks. There are also companies with forestry operations in other countries that want to be involved, so in the long term we can see that this can be an international accelerator", says Monica Vestberg at Bizmaker.
Participating company in Forest Business Accelerator 2019
The incubator BizMaker conducts the Forest Business Accelerator in collaboration with SCA, IBM and RISE Processum who together for eight months tested the participating companies' business ideas. Through tailor-made coaching, the goal for their ideas are to quickly become commercial and reach international markets.
BioCompost (Sundsvall) Has developed a cost-effective and automated composting technology that processes organic waste into environmentally friendly soil improvement products. http://www.biocompost.se/
Calejo Industrial Intelligence (Sundsvall) Has developed a unique AI tool - Calejo Control - with the help of which it is possible to improve efficiency and environmental performance in industrial processes. http://www.calejo.ai/
Cinis Fertilizer (Örnsköldsvik) Has developed a process for converting ash from the pulp mill's recovery boilers into a high-quality and fossil-free mineral fertilizer for the benefit of sea and watercourses. http://www.cinis-fertilizer.com/
PlantVation (Sundsvall) Offers cultivation techniques adapted to the forest industry. The main product is an automated cultivation system that streamlines and digitizes pre-cultivation of plants. https://plantvation.com/contact-3/
Prediktera (Umeå) Offers a new technology for chemical image analysis that enables fast reading of content and quality of large volumes of material in forest production processes. http://www.prediktera.com/
Parts of the content in this article from Bizmaker's press release.
Published 12/13/2019