SCA has carried out a special harvesting operation to recreate one of Ångermanland's finest capercaillie lekking sites. Large spruce were felled while old pine, small spruce and bushes were left standing to create an ideal habitat for adult capercaillies and their young chicks.
The forest site, located south of Sundmo between Ramsele and Näsåker, is characterized by old pine-dominated stands. The site covers approximately 40 hectares, of which about 15 hectares were included in the special harvesting operation, and a smaller section has been designated a key habitat.
"There is a large and well-known capercaillie lekking site in the northern section and while making an inventory of the conservation values prior to harvesting, I noticed quite a lot of capercaillie droppings," says Askia Sandberg, SCA's nature conservation expert in Ångermanland.
Old pine and small trees left standing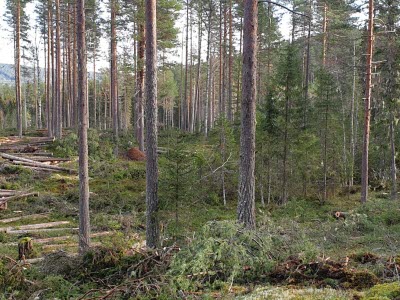 The site features many old pine trees that had unfortunately lost their footing to large spruce trees.
"By felling the spruce, and a small percentage of pine in some places, we have been able to release old pine trees from competition and create gaps to help them regenerate. That also attracts capercaillie cocks who sit in the top of the pine trees and sing," says Askia and continues:
"There are also some wetter areas with mainly small, weak spruce, birch and bushes and these were left untouched. We wanted to provide cover for the capercaillie hens and their chicks to help them hide from predators."
Resele Skog was the contractor engaged for the special harvest, and the operation required a great deal of care.
"You really have to think twice," says Jörgen Frisendahl, harvester operator for Resele Skog. "It is totally different from a normal thinning or final harvesting operation because you have to pay attention and think carefully about everything that you do. We did a great job, I think."
Similar to fire-affected forest
The entire area is mountainous and rocky, with old pine, storm-felled pine and many traces of past fires. In addition to recreating a capercaillie lekking site, the aim of the harvesting operation was to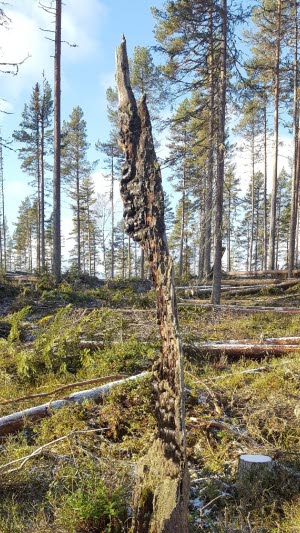 emulate a pine forest affected by fire.
"Forests used to burn far more frequently and while the pine survived, most of the spruce was killed. That created sparse and light pine forests with an abundance of big old trees. In this area, you can see traces of what used to be a light pine forest from the large pines, burnt stumps and storm-felled pine, which are still lying dead on the ground.
"As well as harvesting, we also create deadwood and stress the pine bark to form resin-impregnated pinewood. Deadwood and resin-impregnated wood are scarce in forests today, but are very important for many species of flora and fauna that depend on the wood to survive."
While planning the special harvesting operation, another site with healthy pine-dominated stands was discovered nearby.
"We will probably do the same thing there next year," says Askia.
Photo: Anna Bergqvist and Askia Sandberg
Published 11/12/2019