The Swedish forest industry's road transports are to become fossil-fuel free. SCA is now pooling resources together with several major players in a joint project. A pre-study will be conducted for electric as well as autonomous and electric transports.
The two-year research project is called "Accelerated transition to fossil fuel-free transportation in the forest sector" [Accelererad omställning till fossilfria transporter i skogssektorn] and is tasked with speeding up innovation to achieve the climate target of zero emissions from transportation by 2045. The project is to propose new systems and technology combinations that should be tested in practical demonstration projects.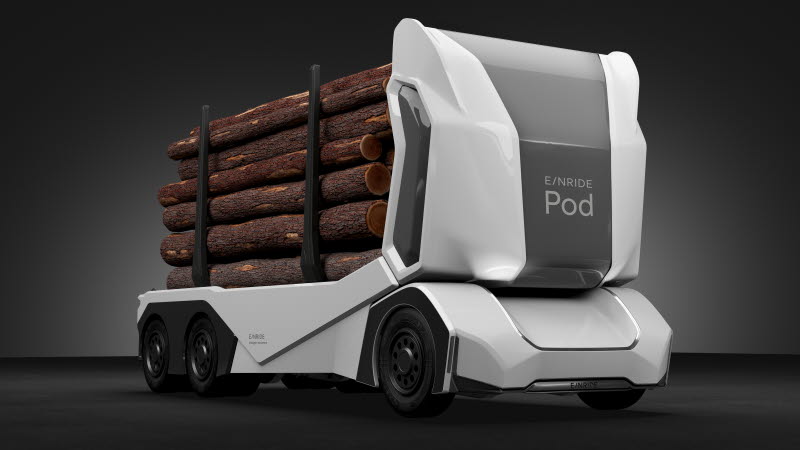 "The forest industry is currently responsible for about 25% of freight transportation by road in Sweden. If these journeys are to become fossil-fuel free, a variety of innovation is needed, and electrification is one very important piece of the puzzle," says Karolina Boholm, Director Transport at the Swedish Forest Industries Federation.
Autonomous vehicles
The project will also study how important the development of autonomous vehicles is and how this relates to the choice of a new fossil fuel-free transport solution. A pre-study will be conducted for electric as well as autonomous and electric transports. One of the participants in the project is the Swedish start-up company Einride whose goal is to accelerate the transition to sustainable transport, and they have developed the Timber Pod autonomous electric truck.​
For this project, SCA will suggest suitable transport routes where electric vehicles could be used as an alternative, as well as basic data and local conditions for the analysis of transport alternatives. It is then up to SCA to introduce the technology when the preliminary study is completed.
"We will primarily consider our roundwood flows from wood pile locations in the forest to the terminals located close to the industries, and at the flow of forest by-products from sawmills to the receiving industry. Emissions from domestic transportation are to decrease by at least 70% by 2030 compared with 2010, according to the set climate goals. Alternative fuels, new technology and efficiency enhancements must be combined to enable timber transport on our roads to achieve the climate goals," says Mikael Sundelin, Project Manager at SCA.
The project is a subproject of Triple F (Fossil Free Freight), which is financed by the Swedish Transport Administration. The project is led by the Stockholm Environment Institute (SEI). In addition to SCA, participants include BillerudKorsnäs, Södra and Sveaskog together with Skogforsk and Einride.
Einride's T-log, electric and autonomous timber truck.
Photo: Einride, press image
Published 11/26/2019