In an effort to optimize the management of Tjäderberget conservation park in Västerbotten, Sweden, SCA arranged an excursion for the park's reference groups in September. "We want to show what we are doing, while also getting valuable feedback," says Ulf Hallin, SCA's nature conservation expert in Västerbotten.
Tjäderberget conservation park lies between Umeå and Lycksele in Västerbotten, Sweden, and covers an area of 1,303 hectares. The park borders with the Tjäderberget Nature Reserve and features deciduous forests, pine forests of different ages and remains from former settlements.
Management of these forests is largely focused on the promotion of conservation values.
This year's reference group meeting was held in glorious autumn weather, with representatives from the Västerbotten County Administrative Board, the Swedish Forest Agency, the Forestry Research Institute of Sweden and Holmen.
"It was an excellent day with very rewarding discussions. Many people were impressed by what we've done, which is really great," says Ulf Hallin, SCA's nature conservation expert in Västerbotten.
"Reference group meetings are important because we want to gather suggestions for conservation measures, and engage in dialog about how we can protect plants and animals with specific habitat requirements. Their views are valuable and play an important role in management of the park."
Many different initiatives
Since the park was inaugurated in 2014, many initiatives have been carried out to develop and preserve the conservation and cultural values of the forests. The Group studied the outcome of these initiatives first.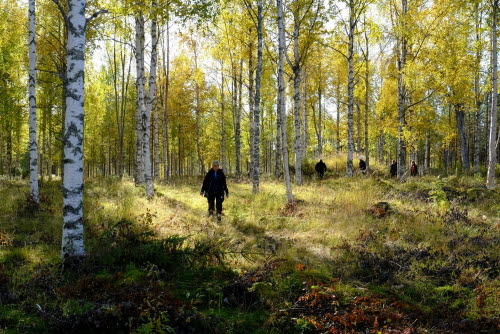 "We have felled pine forest without damaging conservation values, and promoted deciduous forest by removing pine and spruce. We have also dammed a ditch in a forest area to create more dead wood, planted spring birch, carried out controlled burns and thinned the forest in areas that are popular for hiking and berry picking," says Ulf and continues:
"We have also done a great deal of work around the Sjölunda holiday cabins. We removed all pine trees and created a deciduous forest with nice views like a park. In the nearby summer pasture, we removed all spruce a few years ago and kept all the sallow and asp. Then we carried out a burn in the area to create herb-rich vegetation.
Rare species
SCA has commissioned two inventories of bird and insect species in the park. The insect inventory shows that the park is home to 33 species on the IUCN Red List, and seven are included in the Swedish Environmental Protection Agency's action plan (ÅGP species in Swedish).
"There are plenty of butterflies around the summer pasture area, and a large number of the rare silvery argus (Aricia nicias) butterfly have been spotted. Other rarities, such as the Rhacopus sahlbergi and Holobus flavicornis beetles can also be found here. These two species have never been spotted in Västerbotten before," says Ulf.
The bird inventory has been carried out for three years to date and shows that deciduous trees left in clearcut areas attract the most songbirds.
"However, the bird inventory needs to continue for several more years before we can draw any conclusions about how forest management affects bird fauna," says Ulf.
Coming initiatives
In the afternoon, the group walked up to the top of Fäbodberget on a new track that SCA has marked this year.
"We stopped at a few places along the track to discuss how the group thought we should be managing the pine forest. We all agreed that we need to carry out a nature-conservation harvest where we extract one-third of the timber and create different rooms in the forest, with open spaces and sunny locations. We are also planning to rejuvenate one area of the Park with sallow next year," says Ulf.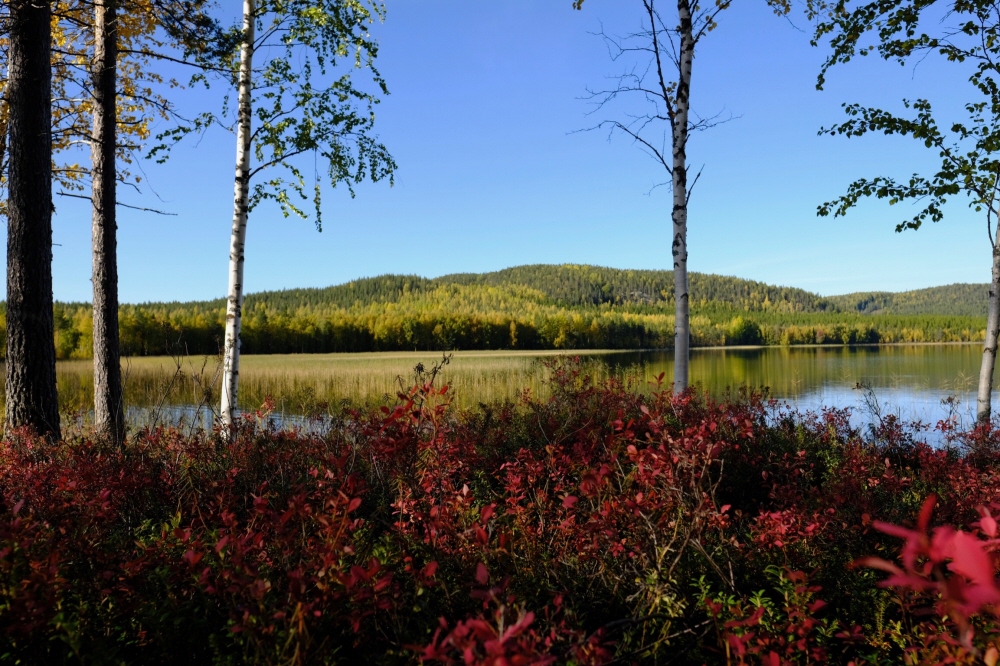 Published 10/14/2019