SCA and Holmen are cooperating to create a forest trail with a focus on nature and cultural conservation in a area with first-class forests and high conservation values. The trail is part of Holmen's "Kunskapsskog" and encompasses SCA's voluntary set-asides in Kunnådalen in Ångermanland, Sweden.
Last summer, Holmen Skog inaugurated its first "Kunskapsskog" (learning forest), which is located in Kunnådalen, 70 kilometers west of Örnsköldsvik. The area comprises some 2,500 hectares of land. SCA's land, which is next to Holmen's Kunskapsskog, includes voluntary set-asides alternating with ponds, valuable bogs and forests to be managed using continuous cover methods, all in all covering 400 hectares.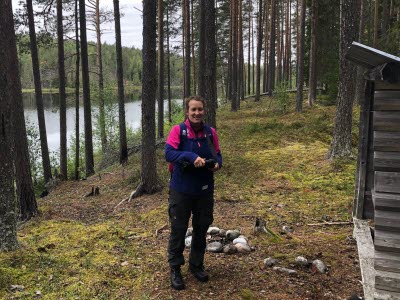 Holmen's Kunskapsskog features a deep and broad valley along the River Kunnån, which runs like a beautiful thread through the area. Mostly spruce trees grow in the lower sections of the valley, while pine trees dominate in the upper sections.
"On SCA's side, we have pine forest on rocky ridges or pine forest on sandy soil that burned a long time ago. The easily dug sandy soil features many old trapping pits used when moose were hunted in the past," explains Askia Sandberg, SCA's nature conservation expert in Ångermanland.
Marking trails
Askia and Kristofer Wester, Holmen's nature conservation and wildlife specialist in Västernorrland and Jämtland, have walked through the area, which already has some trails. Together, they have marked a longer trail using GPS that mostly passes through pine forest and extends across land owned by both of the companies.
"We are planning to clear and mark a continuous trail of about five kilometers from Kunntjärnen to Stor-Dammsjön for visitors to use," says Askia. "This is an area of natural beauty and if you are fortunate you may see golden eagles, which have several nests in the area. Holmen's section of the trail has a shelter with an outhouse that is not far from the car park at Entré Låssjön, making the area easily accessible for families with children. More shelters are also available in SCA's section at Kattajärven, with a beautiful view across Vackerhöjden."
Linking together the forests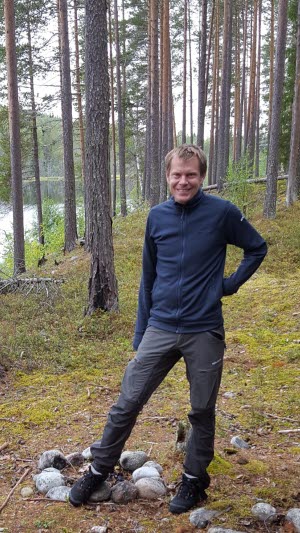 "I think it's great that we can work together to provide more information about how we as companies work with nature and cultural conservation. This whole area is beautiful and a great destination for a day out," says Askia.
"It is very exciting that we can link our Kunskapsskog with SCA's conservation areas and also gain a new entrance to Kunnådalen. This helps us to raise the attractiveness of the area and increase value for people who wish to visit the forests. We all benefit from working across company boundaries," says Kristofer Wester.
Holmen is also planning to produce information boards to explain about the different animals that live in the forest and to show traces of past forestry activity. Kunnådalen contains remnants of old cottages, mills and other signs that people have used the land for hunting, grazing, hay-making, fire-fallow cultivation and log driving.
Published 10/24/2019