At the end of July, SCA carried out controlled burning at two smaller areas in Härjedalen to encourage the growth of the endangered and rare pasqueflower. More than 300 pasqueflower seeds have now been sown in order to hopefully increase the flower population.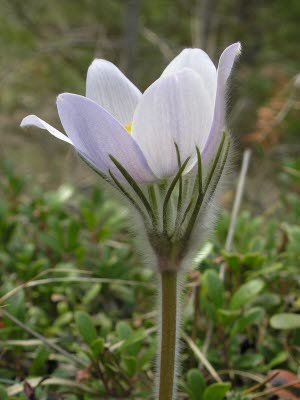 The pasqueflower (Pulsatilla vernalis) is protected and classified as endangered on the Swedish Red List*. The flower grows in very few locations in Jämtland and Medelpad, some of which are on SCA's land.
The pasqueflower has large, clock-shaped flowers that are white on the inside and pink on the outside and grows in sandy soil, particularly in open pine forests and heathlands. It needs impacted soil to grow, and the forest should preferably burn at regular intervals to encourage it to multiply and thrive.
"Pasqueflowers are increasingly rare as forest fires are less common today. Forests are also denser and contain a
thicker layer of moss and humus," explains Tomas Rydkvist, who works with controlled burning at SCA.
Better conditions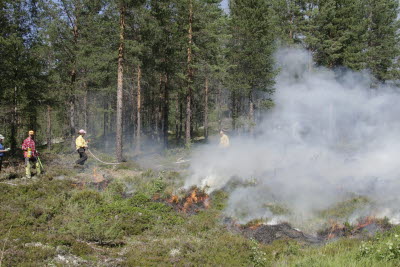 "By carefully burning off competing vegetation, we create areas of mineral-rich soil that encourage pasqueflower growth. One of the burned areas is rich in pasqueflowers, but none are flowering. The second area is along the side of a road and is also rich in pasqueflowers, but they are facing strong competition from other vegetation. We cleared this area last year and conditions are much better following this year's burning," explains Tomas.
Planting seeds
The pasqueflower is a species included in a special action plan set up by the Swedish Environmental Protection Agency. The overall goal for the pasqueflower is to change its classification to viable and remove it as a red-listed species.
"SCA is cooperating with the county administrative board in Jämtland, where – with the administrative board's permission – we collected half of the seeds produced earlier this summer and then planted the seeds in suitable locations in the same area. We have now planted 300 seeds in the burned areas and we hope to see more pasqueflowers growing. It will be exciting to see how things develop," concludes Tomas.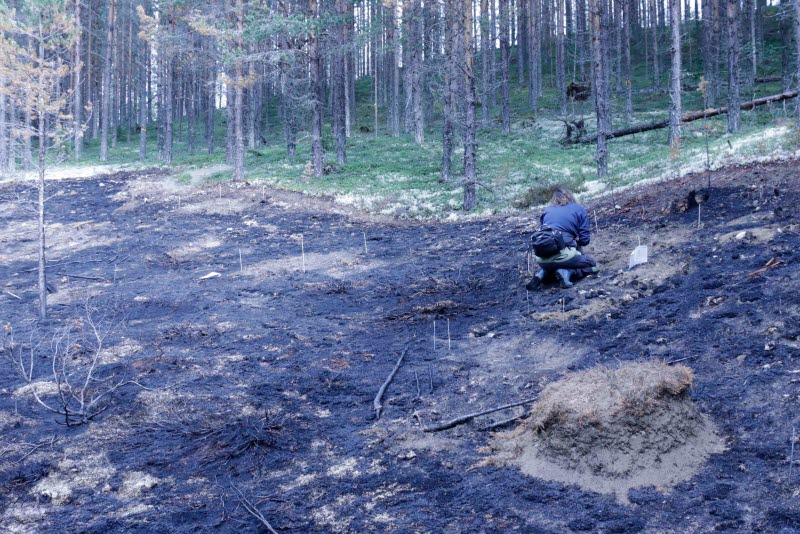 Photo: Tomas Rydkvist
* The Red List is a compilation of the status of various species (risk of extinction). The Swedish Red List is drawn up by the Swedish Species Information Centre and adopted by the Swedish Environmental Protection Agency and the Swedish Agency for Marine and Water Management.
Published 8/14/2019