Wetter and lusher vegetation with an abundance of ponds. That is the result of a restoration of the Rödmyran Paulund fen, Västerbotten. The fen covers an area of 14 hectares, mostly on SCA's land.
Nine years ago, SCA received a tip from the County Administrative Board of Västerbotten regarding a restoration of the Rödmyran Paulund rich fen in the Municipality of Lycksele. The rich fen has been designated a Natura 2000 site because it encompasses valuable natural habitats, of which the rich fen is the most important area to protect. Like so many other marshes, Rödmyran was probably drained in the 1930s, which reduced the water level and led to overgrowth.
Careful fellings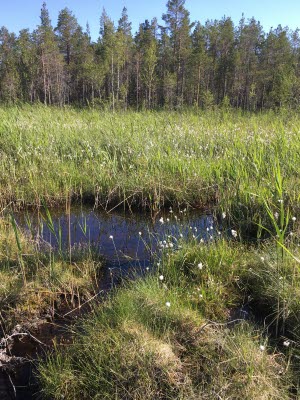 SCA owns most of the land covered by the rich fen. Before the ditches could be redirected, some of the trees needed to be cut down and cleared. However, cutting down the trees without damaging the land required a winter with deep ground frost and low snow cover.
"We had such a winter in 2013–2014, so we started. The cleaning and harvesting was performed manually, and we used a lightweight tractor to remove the timber. The following summer, we were able to restore the fen and fill the old ditches so that the water level could rise and the fen could regain its natural environment," says Ulf Hallin, SCA's nature conservation expert in Västerbotten. He continues:
"By not diverting the entire ditch system, but placing peat blocks at specific intervals, ponds or pools were able to form. We also removed a number of trees. Over the past five years, the area has also become wetter with lusher vegetation."
Benfit various species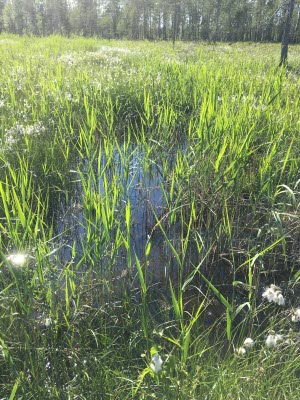 Rich fens are usually species-rich and one variety growing here is the lady's slipper orchid. The rare Vertigo geyeri snail, which thrives in a wet and alkaline environment, can also be found here.
"Other species growing here include bog rush, round-leaved sundew, grass of Parnassus and lesser clubmoss, and the growing plant diversity is attracting butterflies and other insects. The ponds that have formed are attracting species that thrive in fish-free waters, such as amphibians and various species of dragonflies," says Ulf.
"It is fantastic that Rödmyran has now been restored to its original condition. This type of wetland is in short supply in our forests and it feels really great that the restoration was successful," says Ulf.
Photo: Ulf Hallin/SCA
Published 7/3/2019