SCA is actively involved in efforts to save the endangered ortolan bunting, which thrives in clearcut areas. It hopes to make it easier for the bird to find food by digging large hollows in areas where the ortolan has been sighted.
Last autumn, SCA's nature conservation experts joined county administrative boards and a few ornithologists to visit forests in Sundsvall where the ortolan bunting had been sighted. The aim was to find possible measures to create favorable conditions by providing more food for the bunting and its young.
Protection and food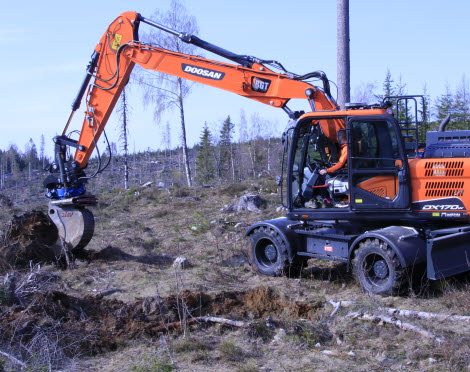 One idea was to dig large patches of mineral soil of about one quarter of a square meter to reveal the topsoil. The ortolan seems to thrive in all types of clearcuts where the topsoil has been disturbed by scarification, for example, because bare ground in a protected location makes it easy for them to find insects when feeding their young. But after five to six years, the clearcut starts to regrow and the ortolan has to find a new home with protection for its nest and plenty of food. By digging patches and overturning mineral soil we can "extend the life" of the location for a few more years, providing the bunting with access to food.
"These are the types of patches we have now dug with an excavator at Fäbodtjärn in Indal," says Tomas Rydkvist, SCA's nature conservation expert in Medelpad.
Successful excavation
The digging was carried out by the contractor BGT in Liden and the excavator was operated by Adam Gustavsson.
We created about 40-50 hollows at the smaller clearcut. We tried digging out stumps, which we found was a very effective way to create a large mineral patch, and created ordinary mineral soil patches at the clearcut. Along the road at the larger clearcut area, we created 2x3 meter patches with 3 meter openings along the length of the ditch.
"The excavation was a great success. We now hope it will be easier for the ortolan bunting living in the area to find food for their young," says Tomas. "We are also planning to dig in other areas where ortolans have been sighted."
The measures will also be followed up during the season to see if the birds are using the hollows to find food.
More about the ortolan bunting
The ortolan bunting is mainly a farmland bird species, but the population has declined as agricultural practices have changed. In recent decades, increasing numbers of ortolans have been sighted in clearcut areas in northern Sweden, often on scarified sites.
The ortolan bunting has been included in the Swedish Environmental Protection Agency's action plan since 2017, a project coordinated by the Örebro County Administrative Board. The species is currently classified as Vulnerable, but the vision is to achieve a Least Concern classification. The action program's long-term target is a higher population of the ortolan bunting in those regions already inhabited.
Photo: Tomas Rydkvist
Published 5/6/2019