On April 3, Elin Olofsson at SCA Skog received the Swedish award "Wooden fly of the year", which is distributed by the company Martinsons. She gets the prize because she "with knowledge, commitment and goal-oriented work has contributed to the gender equality work in the industry being accelerated and prioritized".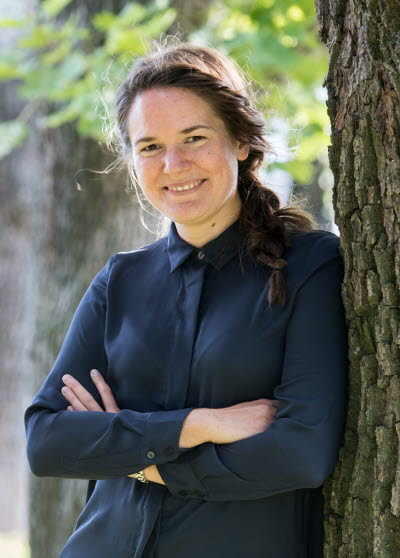 This is the second time in the course of a few months that Elin will receive a nice award for her work on increasing gender equality in the forest industry. Last winter, she was named Alumni of the Year 2018 by SLU, The Swedish University of Agricultural Sciences.
Elin, who is a business developer at SCA Forest's market staff, has a great commitment to work for increased gender equality and to counteract sexual harassment in the forest industry. For example, it was Elin who, along with some others in the forest industry who created the hashtag #slutavverkat (final felling) on Instagram, which became the forest industry's call in the metoo-movement against sexism and sexual harassment.
Big congratulations Elin, what does this price mean to you?
"Getting the award is of course very nice for me as a person. But more importantly, the price contributes to legitimizing the discussion on gender equality in the forest industry. It is brave of Martinsons to pay attention to the issue of equality in this way. The fact that my commitment is given priority over other great accomplishments sends a clear signal to the rest of the industry. There are many other companies that are still reluctant to tell what activities they are doing in this area."
What is happening in the industry now when it comes to work on gender equality and norms after #slutaverkat
"Right now, much is happening within both informal and formal power. Most obviously, on Friday, March 22, The Swedish Forest Agency's report "Measures for an equal forest sector" was released. In it, the Director General, Herman Sundqvist, states that even though some things are happening in the forest sector, it is unacceptably slow. A number of measures are therefore presented to force an increased tempo. I see it as a turning point."
How does your work continue to change the industry?
"I, with my informal power, work together with a group to shape and increase participation in NYKS, The Network for Professional Women in the Forestry Industry. On March 9, we organized the first national meeting in Umeå, where we had a morning on theme norms and power and one afternoon with practical solutions through training in civil courage with a focus on sexism. Commitment is significant, both from women and men. It is important, because as I see it, the issue of gender equality has only one path to success and that is when the formal and informal power exchanges and interacts."
What drives you?
"It's really two things. First, that gender equality is a question of having the right to shape the professional life one wants and having the same power and influence in the industry in which you operate. The number of women may grow, but if men and women do not have the same influence, there is no gender equality. We need to expand the space so that people can become their own best thinking individuals. This is what this industry needs to do, according to the enormous challenges we are about to face. The second thing that drives me is the obvious need to create a sustainable society. Sustainable forestry is a key to a sustainable society, and sustainable forestry is driven by sustainable people. Sustainable people are equal. Therefore, equality is a natural matter."
As the winner of this year's award, Elin gets an exclusive wooden fly. In addition, Martinsons donates SEK 10,000 to the "Heroes' House" in Umeå in her name.
Published 4/4/2019