Silviculture plays an important part in the work of tending SCA forest land and other forests. Through soil scarification, planting and thinning forests, we ensure high-quality raw material. In 2018, we invested more than SEK 180m in silviculture measures in our own forests.
In 2018, SCA conducted silviculture activities on about 55,000 hectares of its own forest. In addition, we helped many private forest owners. Silviculture includes soil scarification, where the land is prepared prior to planting, as well as the work of planting itself and the subsequent pre-commercial thinning when the trees have reached 2–3 meters in height.
Many challenges
2018 was a special year for silviculture, however. Extreme drought and an unusually high risk of fire brought many challenges for those involved in the work, in both SCA forests and among private forest owners who engaged SCA for help.
"The hot summer — July in particular — meant we had to make changes to our plans; for certain periods, the machines used for soil scarification could only operate during the parts of the day when there was a lower risk of fire or they could not be operated at all," says Leif Johansson, silviculture specialist at SCA, and adds:
"Because of this, we didn't achieve our objectives." Total soil scarification was only 76% of the planned area in our own forests and among private forest owners. This corresponds to 20,100 hectares in total, of which 14,282 hectares were own forest. We thus have just over 6,000 hectares we didn't manage to work with that will undergo soil scarification in the summer of 2019. But the situation looks very good, since we have procured machinery resources to manage this year's increased soil scarification area.
As regards the quality of the soil scarification work completed, last year was at an all-time high.
"We had 97% soil scarification points — the places where saplings are planted — approved, and that's a new record. I would like to pay tribute to everyone who worked so successfully on this," Leif says.
Most common when planting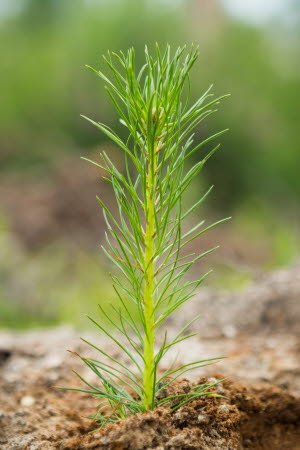 Planting is in a class by itself when it comes to creating new forest. Last year, just over 17,000 hectares of SCA's own forest — and nearly 6,300 hectares of private forest owners' land — was planted. Swedish pine was the most common tree species, accounting for the majority of plantings in own forest, followed by spruce and contorta pine and a small amount of larch.
"On average, we plant 2,300 saplings per hectare, which corresponds to two or three seedlings for each tree we harvest. As regards quality, 95% of saplings planted according to our instructions were approved, which is good. On the other hand, however, we planted too few saplings, so this year we're going to focus more on that," Leif points out.
"Investing in forest management is an investment in the future. A properly tended forest yields good returns, and is a venture that pays off. We here at SCA are very good at siliviculture, producing high quality at a favorable cost," Leif states.
Digitalized quality chain
SCA's extensive quality chain, with which we monitor the silviculture work using quality statements, is now entirely digital. This means that everyone who works with forest management monitors the work using apps on mobile phones and tablets.
"Contractors write their own quality statements, which staff in our forest districts then conduct spot checks on. We then follow up centrally on the spot checks, where we ensure that the forest management districts are correctly monitoring the work. This way, we can ensure that everyone is producing the right quality and working in the same way," Leif says.
All silviculture data is collected in a computer system.
"Thanks to this, we know how to care for the forest in the best possible manner to ensure high quality for the raw material of the future," says Leif.
Photo: Michael Engman
Published 3/28/2019