The aid organisation Home of Hope has been working for 20 years to support vulnerable people in Sri Lanka. In the autumn, SCA Sourcing & Logistics helped to ship 126 hospital beds from Sweden to hospitals and orphanages in Sri Lanka.
There are many poor villages in Sri Lanka, and the country has been heavily ravaged by a civil war which lasted for almost 30 years. The organisation Home of Hope helps many people who are living there under difficult conditions. "Our activities include an orphanage with 85 children in the town of Digana and we're helping people with disabilities in the surrounding villages," says Alex Perera, who runs the aid organisation together with his brother.
Great efforts
Gathering aids and material is an important part of their work. Two years ago, they shipped wheelchairs and crutches, among other things, from Sundsvall to Sri Lanka. SCA helped with the transport, just as it is doing now with the shipping of three containers filled with 126 hospital beds and 27 bedside tables. "Home of Hope is making a great contribution. It's completely voluntary and their efforts are really having an impact – so we really want to support them," explains Magnus
Svensson, President SCA Logistics.
Better comfort for the children.
The beds come from hospitals in Sundsvall, Sollefteå and Örnsköldsvik. And in Sri Lanka they are very gratefully received. Around 40 of the beds will be used at the orphanage in Digana, on the disable ward. The rest will be given away to hospitals in poor areas.
"It will be fantastic to get real beds in the orphanage. The ones they have at the moment we built ourselves. The children will be much more comfortable and the work will be a lot easier for the staff when the children have beds that can be raised and lowered," says Perera, adding that this will also mean major improvements for the hospitals that receive the beds being given away.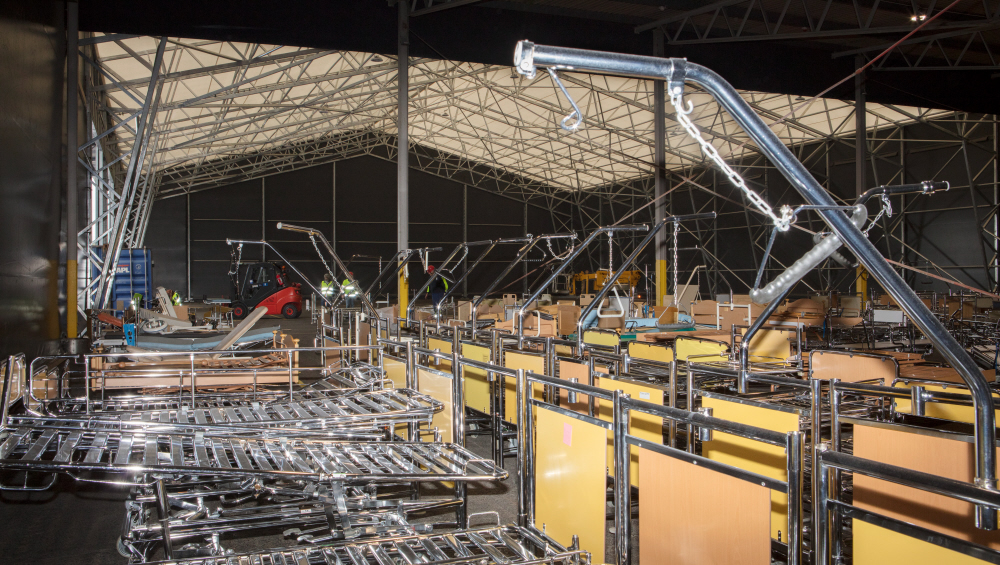 The beds in place before loading. Photo: Linda Snell.
Important aid
On 4 October, the containers filled with beds and bedside tables were shipped from
SCA Logistics Terminal Sundsvall and on 4 November they arrived in Sri Lanka. "Among other things, we took care of the loading and lifting of the containers and covered the shipping with our container feeder from Tunadal to Rotterdam," says Ellenor Nordborg, Chartering Manager at SCA Logistics.
From Rotterdam, the containers continued to the Port of Colombo in Sri Lanka with the shipping company APL, which is also supporting the project. "APL is one of our closest overseas suppliers and they also took part in the previous shipping for Home of Hope. Truck companies JS Frakt AB
and Transport och Lagerservice AB also lent their support to the project by transporting the beds from the hospitals to the terminal," Ellenor explains. For Home of Hope, help with the transport has meant a great deal. "Our aid efforts are based entirely on support from private individuals and companies. We would never have managed to carry out this project without SCA's involvement, so their support is extremely important," Perera concludes.
Read more about Home of Hope, perhaps you want to support too?
Go to: www.homeofhope.se