The Sörgraninge conservation park has many species of unusual soil fungi while the Tjäderberget conservation park contains both rare butterflies and beetles. This is shown in two different inventories commissioned by SCA.
Various inventories are conducted every year of birds, butterflies and other insects in SCA's conservation parks and in other forests.
"The aim is to determine the types of fauna and in particular if we have any rare species that could confirm the high conservation value of an area. We also want to follow developments over time so we can see whether the actions we take have an effect and the environments we favor are the right ones," says Ulf Hallin, nature conservation expert in Västerbotten.
Rare butterfly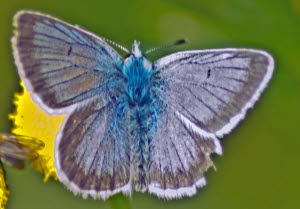 An inventory of insects was carried out in the Tjäderberget conservation park in Västerbotten this summer. Traps were set at various locations to find out which species are present. The inventory was conducted by Roger Pettersson, a researcher at SLU, who also observed a large number of rare Silvery Argus butterflies.
"The butterfly appears to like the old shieling area in the park, where the shieling pasture provides plenty of flowers and plants and forms an important habitat," says Ulf. "A few years ago we felled all of the spruce trees and most of the birch trees that had grown on the old shieling meadow and left all of the sallow and asp trees. We then burned the area and in this way created diverse vegetation. And it seems to have favored the butterfly. We will now continue to manage the shieling land so the butterfly and other species remain in the area."
Beetle in dead wood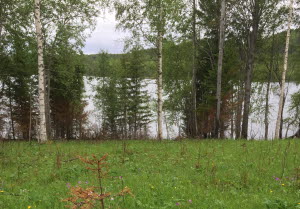 The shieling pasture is also home to a beetle that is rare throughout Europe and has only been found on a few occasions in Sweden.
"It is called Rhacopus sahlbergi. When we burned the area a number of sallows were damaged and as this beetle lives in dead sallow wood it appears to thrive here," says Ulf.
Ulf hopes more insects will be found, but must wait until the final result of the inventory is complete later this winter.
Soil fungi in burned forest
A study was carried out in the Sörgraninge conservation park in Ångermanland focusing on rooted soil fungi in a sand pine forest of 11.5 hectares that was controlled burned in 2017. Pine forest of sand and gravel may feature special fungi that are adapted to well-drained land with sparse vegetation and a thin humus cover.
"We knew there were many species of fungi in the area because of a previous inventory. By quickly burning the field layer, we wanted to encourage the fungi and their ability to form fruiting bodies," says Mikael Berg, district manager at Ångermanland's Forest District.
Many more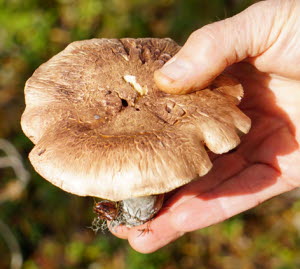 The burning was a success, as shown in the autumn's inventory.
"The main difference compared with the previous inventory is the discovery of many more examples of the same species. The number of fungi has increased. I had hoped this would happen, but was slightly skeptical as the summer was so dry. But the weather has not impacted the fungi."
The area is home to many different red-listed soil fungi and mycelium, which is the fungi's root system that grows in long threads (hypha) and forms a network under the ground. A few new rarities were also found.
"The inventory found many mycelium from Tricholoma colossus, Boletopsis grisea, Lactarius musteus and Sarcodon scabrosus, as well as several Tricholoma matsutake. Moreover, the very rare Albatrellus subrubescens and Lyophyllum shimeji were discovered at a few sites," says Mikael and ends by saying:
"Magnus Andersson at the company Foran, which conducted the inventory, says it is increasingly evident that the area is a real gem, which is great to hear. This shows that burning is a good method to encourage soil fungi and we can use this experience when managing other sand pine forests.
SCA's conservation parks
Our conservation parks are areas distinguished by a higher degree of diversity than the forest landscape in general. With the park, we are continuing our efforts to develop forestry and ensure even greater resilience and sustainability from all perspectives. Read more