SCA is now the proud sponsor of Charlotte Kalla. This is a partnership in which the forest, sustainability and a long-term approach are the common denominators.
"I have wanted to partner with a forest company for a long time. As a responsible company that shares my values, SCA feels very much like the right choice," says Charlotte.
"The forest is my office," she says. "It has been that way since I took up skiing as a profession. On my rest days, when I am not out training in the forest, my body becomes a bit more restless."
Charlotte enjoys the shifting seasons, for example.
"It is equally fantastic when I go out on my skis in the winter as it is during all the hours of running and roller skiing during the snow-free season.
I have also qualified for a hunting license, but I'm not yet a member of a shooting team. I prioritize my training, but hunting is fun and exciting."
An insight into SCA
Charlotte and her family at home in Tärendö are not forest owners themselves, but both of her grandfathers worked in the forest.
"And I have planted seedlings. I also had a summer job at the sawmill in my home village, so I have had a taste of the forest industry and know what happens with the timber. I am looking forward to
gaining an insight into SCA's operations. At the elite level in sports, you become very focused on yourself, so sometimes it is nice to step out of the bubble and see something different."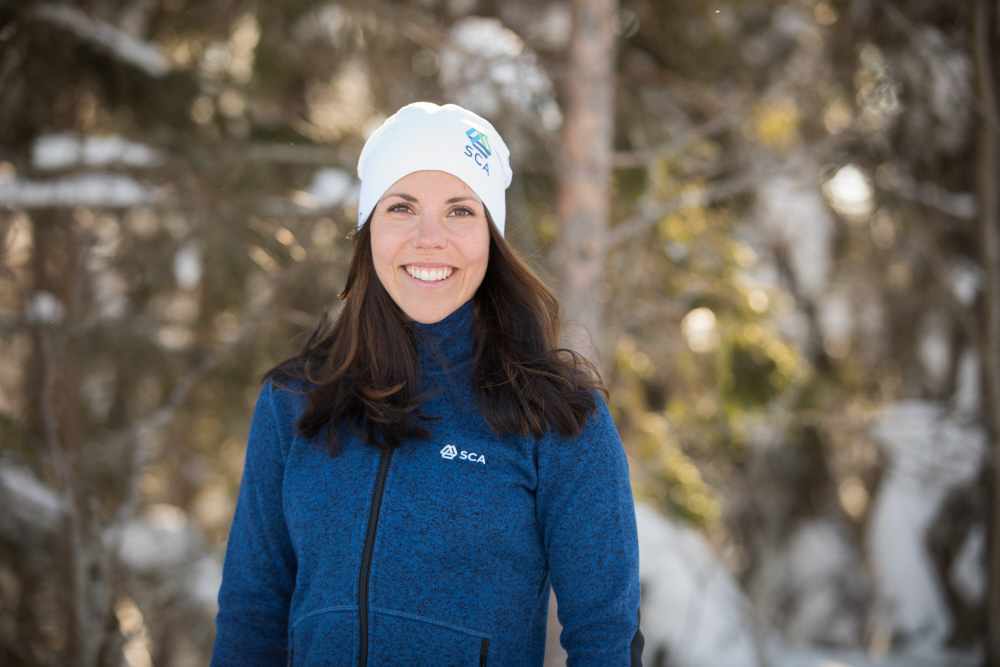 Positive collaboration
It is important to Charlotte to have positive collaboration with companies and organizations with which she shares the same values. She attracted a lot of attention when she turned down sponsorship from a gaming company.
"I am careful about what I say yes to. There must be a good feeling to it. To me, SCA is a company that takes responsibility and thinks about future generations. They take a long-term approach, just as I do in my work. They want to create long-term solutions and make the best of what they have. Optimizing manufacturing processes is reminiscent of optimizing oneself as an elite sports person. You need to do as good a job as possible and then reap the results.
There is a calmness about Charlotte and an awareness of the importance of setting the right priorities and living more sustainably.
"I had an aha moment a few years ago when I read that we had already used the resources for the year on earth by August. That was a wake-up call. I now drive an electric hybrid car and think about how I can live more sustainably. I eat more vegetarian food and think about my consumption. Of course, flying less is not reconcilable with all of my competitions and training camps, but you can always make some sort of contribution. Here at home, I enjoy cycling. You can't just live for the moment, you need to take responsibility for the future!"
Many hours of training
Having skiing as a profession involves many hours of training over a year. Between May and October, Charlotte's training plan is structured in four-week periods, with about 90 hours per period, and comprises everything from speed sessions and weight training to cardio and agility.
"The training plan is important. I like discipline and routines and do not go by how I am feeling or the shape I am in on a particular day. Perhaps training isn't always fun, but I can get exactly what I want from each session by being well-prepared. I am driven by being in good shape and finding that feeling when everything is right."
Where Charlotte lives, at the foot of the Södra mountain in Sundsvall, there are excellent training opportunities, with many fine forests.
The Klissberg route and the Fågelberg route are lovely, as is roller-skiing around Lake Marmen.
This summer has offered a couple of training camps and free time, with the obvious choice of spending time with friends and relatives.
"It has been easy to socialize during this fantastic summer, with all the warm and light evenings. There has been a lot of bathing and lots of fun spending time with other people. And a lot of training, but the heat wasn't too punishing. Although I did have one running session in Uppsala with my sister when we had to cool off half-way in the Fyrisån River."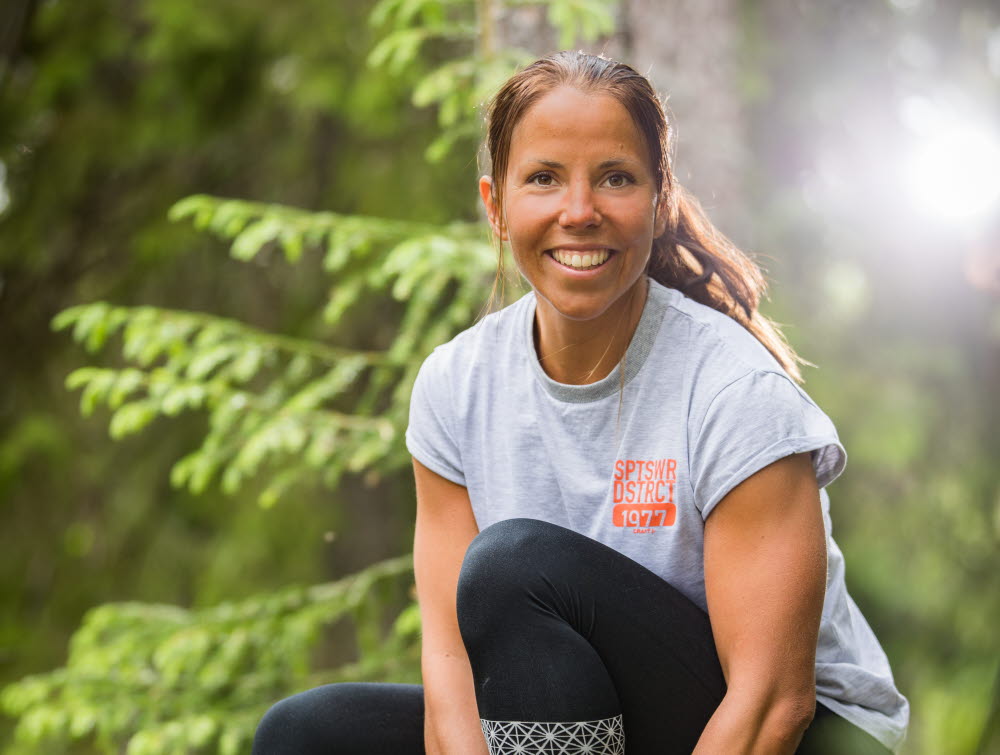 Best when it matters
In the autumn, a training camp in Italy with the national team awaits, and after that it is the availability of snow that determines where the national team trains. Then the competition season commences in mid-November.
This year, the sights are primarily set on the world championships in Austria.
"At the world championships in Seefeld in mid-February is when I must be at my best," Charlotte says calmly. "I believe I have more to give, that there is more to develop. So in mid-August, I am perhaps not in the same good training form that I was at the same time last year, but there is a lot of training time left and I have more reserves to tap into so I am not worried."
A summer competition on roller skis in Norway provided a small insight into the state of her competitors.
"Therese Johaug was devastatingly good and happy to be competing again. She seems to be somebody to reckon with. But so am I."
To Charlotte, the Olympics in Peyngchang already seem a distant memory, but naturally, the rest of us remember the successes, joy and the medals.
"Often you are valued according to the result list, but my focus is on my performance rather than the result. I can become even better and I want to see where my limit is."

Community in the national team
This year, Charlotte is also returning to the national team after competing individually in the past two years.
"Once again I am part of the community that is the national team, which is fun. There is drive and energy in the group and although there is a large age range, we can learn from each other and boost the overall group. It will give me a higher level of energy throughout the year. Previously, I needed to have my own structure, but that is no longer the case. And now, of course, Magnus Ingesson, my trainer, is the manager of the national ski team."
Important to relax
Family and friends are also important to Charlotte, bit it is difficult to have a normal life as an elite skier.
"We see each other in the summer, at Christmas and at Easter – the same as it is for many others." With one sister in Åre and one in Uppsala, Sundsvall is strategically well-located for meeting up. "During
the season, others have to adapt to me and I need to refrain from certain things, such as staying late at a barbecue. But in April, I am completely free and then I am not so public, but more private and spend a lot of time with family friends.
Many of my friends are interested in training, but sport is not their livelihood.
It's nice to have friends who only have training as a hobby," says Charlotte, who enjoys having lunch with friends or inviting them to dinner.
"I like to socialize over food, to be able to sit for a long time and talk. It gives you energy! That's what we also do in the national team, which is fun."
Relaxing is also a key component of training.
"I have understood that I need to take it easy and unwind. Doing what makes me feel good and saying no to whatever I actually don't have the time for. Thomas, the psychologist that I have worked with for a long time, encourages me. A text might arrive with the message, 'Make the best of today and focus on what is important.'"
For relaxation, podcasts and books are welcome pastimes.
"For example, I listen to Kropp och själ (Body and Soul), Säker stil (Sure Style) and radio documentaries from the channel P3 when I am running and I enjoy reading books. Most recently, I read Emelie Forsberg's Skyrunner. I am also influenced by those I live with during competitions and camps. For example, Hanna Falk and I got completely caught up in the TV series Stranger Things."
Charlotte is not particularly interested in media coverage of herself, however.
"My mother collects everything and has a whole lot of cuttings, but I don't read any of it. After a competition, you need to go past the media in the mixed zone. It's not always that great if things haven't gone well, but you just have to grit your teeth. Occasionally, I have to laugh a little at the whole circus, but it's all part of the game."
No stress about the future
Thoughts about the future are also present. But for now, the entire focus is on the skiing career.
"This wasn't the last summer. I do want to keep going for another few years. I am driven by seeing how good I can be. But I can't say now whether I will compete at another Olympics," says Charlotte, who has no sense of stress about her future.
"It'll be fine. When I was five years old, I wanted to own a kiosk in Pajala and eat sweets. Maybe that's what I'll do," says Charlotte and smiles.
"Or maybe I'll work at SCA, who knows?!"
TEXT: Misan Lindqvist
PHOTO: Michael Engman
More about Charlotte
AGE: 31, born in Tärendö, Pajala.
SKI CLUB: Piteå Elit.
BACKGROUND: Debut for the national team in 2006. Wins include 3 Olympic gold medals and 6 silver… to name just a few of all her achievements.
ALWAYS IN HER SUITCASE: A purple rubber band for agility training.
HIDDEN TALENT: Can play a transverse flute.
IF I WERE A TREE I WOULD BE: A mountain birch which stands steady when the wind is howling and is flexible and adaptable.
Published 10/23/2018