Reel handling
Depending on the paper grade different clamping forces are recommended. If the clamping force is too high there is a risk that the reel may become oval shaped.
Within our transport and logistic company SCA Transforest we have extensive competence regarding reel handling, storage, customer integration and data warehouses. We can provide information about correct nip pressure, security loading etc.
Clamping force
Clamping force is usually measured in kilo Newton (kN). 1 kN (1000 N) corresponds to a weight of approximately 100 kg on the reel. 30 kN corresponds to a weight of 3000 kg on the reel.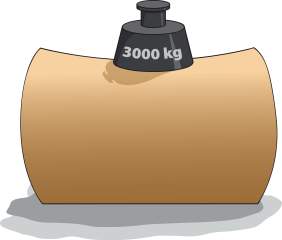 Maximum clamping force according to reel weight
| | |
| --- | --- |
| Paper quality | Pressure factor |
| Uncoated offset and Newsprint | 1.0-1.4 |
| SC | 1.6-1.8 |
| LWC | 1.7-2.0 |
Example:
Total paper weight 2000 kg × factor 1.3 = total pressure
= 26 kN.
Clamping force should be checked regularly, there are several different devices available for this purpose.
Excessive force can cause:
Reel deformation
Reel out-of roundness (oval)
Reel core damage
Insufficient force can cause:
Reel to drop
Reel to slide/telescope
Please contact SCA Technical Support if you have any queries concerning the correct clamping force for SCA reels.
Reel handling instructions
Unloading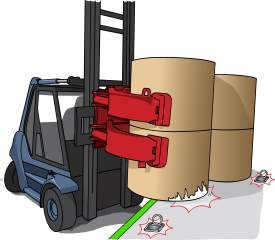 STOP! Be cautious of protruding lashing points, do not push or drag the reels when unloading!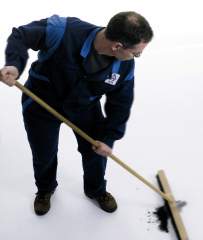 The truck floor must be swept regularly. Even a very small stone or screw etc. can cause severe damage to the reel.
In the warehouse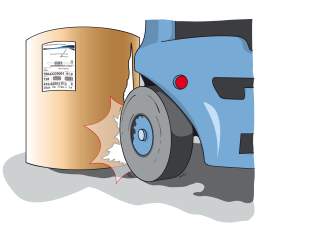 STOP! Careless driving can also cause severe damage to the reels.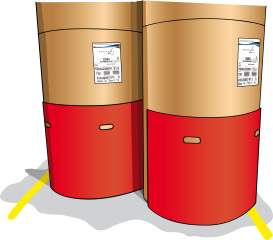 Use reel guards.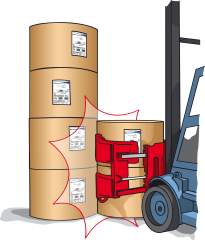 Stop! Leave adequate space between the stacks.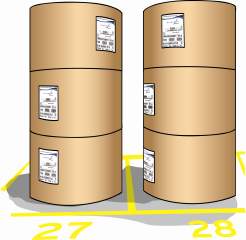 Ensure reels are correctly stacked within the bays.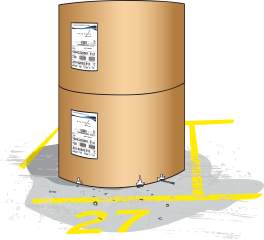 STOP! It is essential that the area is swept regularly; even a very small stone or screw can cause severe damage to the reel.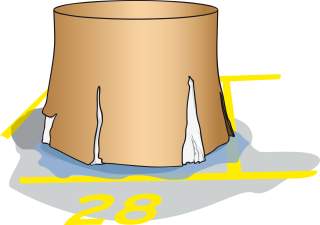 STOP! The place of storage must be dry. Never place a reel in water.
Incorrect handling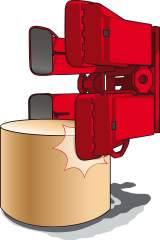 STOP! Risk for edge damage and deformation.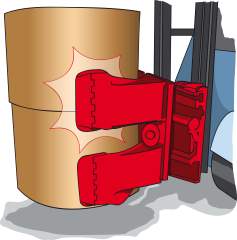 Always place the pads in the center of the reel.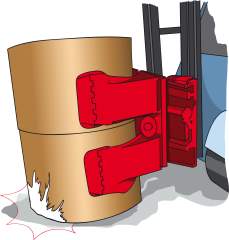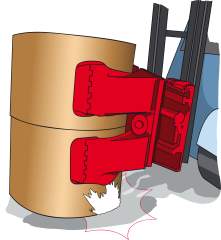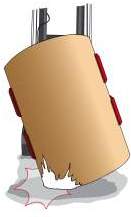 Stop! Keep the mast vertical! Always control the distance from the floor before rating. Never drive with a horizontal reel.
Reel number identification
GraphoCote, GraphoSilk, GraphoLux, GraphoMatt, GraphoNews, GraphoMax, GraphoBright, GraphoInvent, GraphoCrystal
Location: Label (Please refer to the reel number in case of claims)
The reel numbers look like this:
ABBCCCDD
A = Paper machine number
BB = Production week (54, 55 rewinded reels)
CCC = Tambour number during the week.
We use 001-499 even years and 501-999 odd years.
DD = Set and position in the set.
01-15 for the reels from set 1
16-30 for the reels from set 2
31-45 for reels from set 3
And so on
Reels with numbers 1, 15, 16, 30, 31, 45 and so on are the edge reels.
SC Paper
The reel numbers look like this:
(YY)PVVTTTSB
(YY) Year of the production of the first tambour (mother reel)
P = Number of the paper machine: (0 = PM10, 1 = PM11)
VV = Production week of the first tambour or week of rewinding
TTT = Continuing number of the tambour in the time of one production week
Rewound reels are starting with the fictive number 500
SB = Combination of the position of the reel in the tambour and set number. The numbering starts at the front side of the paper machine.
01 to 19 reels from the first set
21 to 39 reels from the second set and so on
Reels with 01, 19, 21, 39, and so on are edge deckles (reels)
Except in case of rewound reels the edge reel on the drive side of the paper machine always get the highest number (19, 39, 59, 79, 99)
SCA Ortviken also has a package number:
Location: Delivery note, Label and the bar code printed around the reel
The reel numbers look like this:
YYABBCCCDDZZZZ
YY= Year
A = Paper machine number
BB = Production week (54, 55 rewinded reels)
CCC = Tambour number during the week
DD = Set and position in the set.
ZZZZ= Always 1876 for SCA Ortviken Paper Mill