Arcwise® is a new technology that provides the unique opportunity to integrate graphic design with curved shaped packaging having the rigidity of corrugated board.
A new world of innovative design opportunities along with superior packaging performance and sustainability are enabled. The technology is protected by a portfolio of patents and design protections and is available through license agreements. Arcwise® is a business within SCA Forest Products AB. Corrugated packaging based on Arcwise® technology can be purchased from certified box manufacturers.
How it works
The Arcwise® packaging concept can be realized in conventional corrugated board machinery and subsequent printing and die-cutting equipment and does not involve significant investments.
Arcwise® packaging can be shipped flat from corrugated packaging producers to brand owners (fillers) and attain a curved shape in the erecting/filling process. In Point-Of-Sales, attractive curved shaped packaging designs are set to boost sales among brand owners.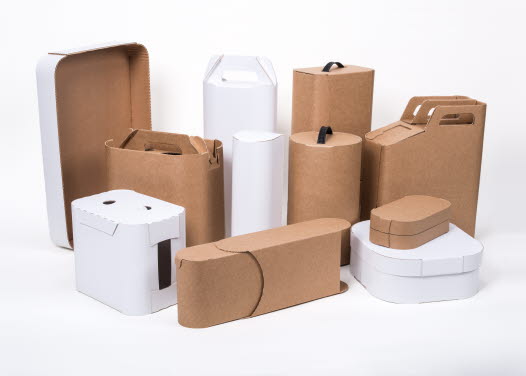 License
Packaging manufacturers are offered to get a license agreement which gives the right to produce and sell Arcwise® packaging. The payment model includes a fixed upfront fee and a variable fee based on sales value of Arcwise® packaging.
Before a packaging manufacturer is allowed to sell Arcwise® packaging, the production facility needs to be certified. The certification procedure will assure that the quality of production is at highest possible level.Send a request to info@arcwise.se for more information on how to become a licensee and a certified manufacturer of Arcwise® packaging.
Official website
Services/Contacts
Based on more than 20 years of experience in packaging R&D and world leading expertise in paper products, the development of Arcwise® technology was initiated at SCA R&D Centre in Sundsvall, Sweden.
A team of world leading experts and "out of the box thinkers" is now leading the development of Arcwise®. We welcome you to benefit from the concept to boost your business!
Besides licence agreements, Arcwise® are offering number of supporting services:
Assistance to box manufacturers in the production start-up and certification process
Erecting and filling support
Design workshops to educate design agencies, brand owners and box manufacturers about how to design packages with curved shapes using Arcwise® technology.
Packaging design & prototyping
Material optimization