NorrPlant, SCA's seedling operation, has now begun the year's sowing at Bogrundet and Wifstamon nurseries outside of Timrå. "This year, we'll be sowing just under 100 million pine, spruce, contorta pine and larch seedlings," says Jörgen Andersson, Head of NorrPlant.
The sowing hall at Bogrundet, the world's largest nursery, runs like an assembly line. The seedling boxes – which hold 67 or 128 pots with seedlings – are filled with peat, and the seeds are planted one by one in the middle of each pot. This all takes place in an automated process, in which photocells check that every pot is guaranteed to contain one seed.
All the pots have ventilation slits and guide strips, and are painted with copper paint that ensures the roots of the seedlings develop optimally and are not deformed. From the sowing all the way out to the clearing, the seedling boxes are placed in a metal growing frame that holds 60 boxes.
"That way, the seedlings are in safe keeping throughout their growing years and we'll never need to move them around," Jörgen says.
One million per day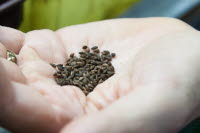 The sowing will continue up through midsummer; at its peak, SCA will sow one million seeds a day at its two nurseries. The seedlings sown early in the year are kept in cold storage until April, when they are moved over to the greenhouses, where they will stay for three to six weeks until they are allowed to finish growing out in the open.
"Some of the seedlings we're cultivating this year will be delivered at the end of the summer, but the majority will be delivered to forest owners in 2019. We have customers from the Uppsala district in the south all the way to Kiruna up north," Jörgen says.
Over the years, SCA has cultivated and delivered hundreds of millions of seedlings to forest owners.
"Our seedlings are of high quality, with good growth, and that yields stable forests," Jörgen concludes.
Published 1/15/2018