We have to act in harmony with the society in which we operate in order to remain relevant now and in the future.
An ongoing and close dialog with stakeholders helps us understand what expectations there are of us as a company and the needs of our customers.
The dialog helps us to:Emplo
Continuous improve
Build long-term relationships
Prioritize our sustainability initiatives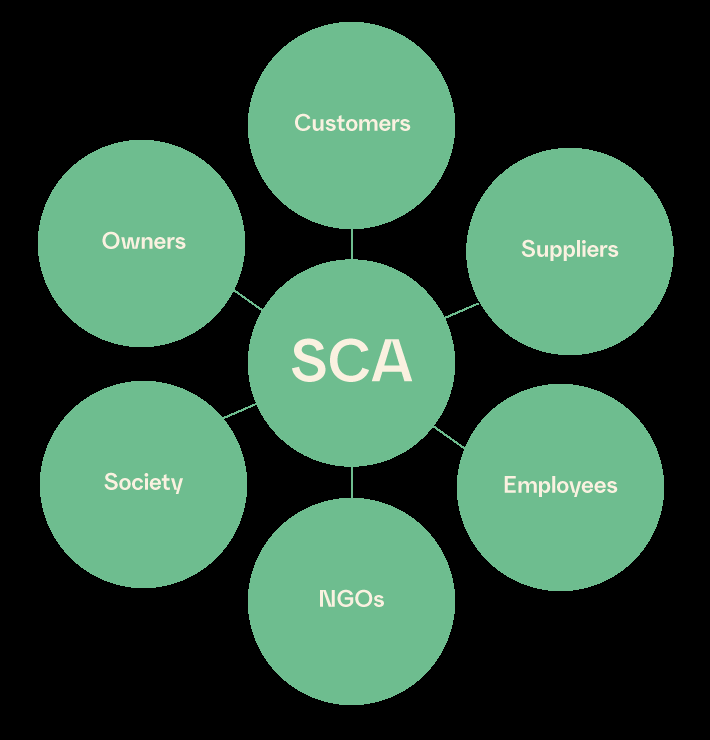 Prioritized areas
In 2019, SCA has identified the issues that are important for the forest products company SCA and its stakeholders.
Strategic prioritering

Why material
SCA's materiality analysis
Profitable growth
Long-term profitability requires sustained and profitable growth that creates value for customers, owners, employees and the communities in which the company operates.
• In accordance with the company's strategy
Fossil-free world
SCA produces and sells renewable products that can replace fossil-based alternatives and thereby contribute to reducing global warming. SCA also contributes to climate benefits through the net growth of the company's forests, which absorb CO2 from the atmosphere, and by continuously striving to reduce greenhouse gas emissions from its own value chain.
• Climate impact
• Green transportation
• Renewable energy
Valuable forests
Forest is an important part of the earth's ecosystem. SCA conducts responsible forest management to benefit biodiversity while the use of forest raw material creates value for our customers and the Group, and ensures future access to forest raw material.
• Responsible forest management
• Biodiversity
• Supplier audits
Efficient use of resources
SCA continuously strives to improve its resource efficiency, which contributes to better profitability while also being economical with the planet's resources and reducing the impact on the environment. Water is an essential resource and we safeguard access to clean water by minimizing our emissions. We work continuously to minimize waste and look for new uses for our waste streams.
• Climate impact
• Resource efficiency
• Development and innovation
• Emissions

Responsibility for people and the community
Employees are the company's most important resource. SCA secures the future need of expertise by developing employees and being an inclusive and attractive employer that puts health and safety first. Through the business, jobs are generated, both directly and indirectly, and SCA develops together with, and contributes to, the communities in which the company operates.
• Health and safety
• Community engagement
• Gender equality
• Skills supply
Our set of values
To be a credible and transparent company, SCA's business is based on a shared set of values that are described in the Code of Conduct, which all employees are to comply with and to be guided by in the company's business relationships and interaction with stakeholders. SCA aims to establish a sustainable supply chain with suppliers that share the company's values.
• Ethics and set of values
• Human rights
• Supplier audits
Essential areas
The materiality analysis is based on stakeholder dialogues, market trends and the company's strategic priorities, and forms the basis for SCA's strategic direction and focus for its sustainability work.
Read more
Materiality analysis
Stakeholder dialogues

Stakeholder groups

How we conduct dialogues

Main topics

How we address the issues

Customers and consumers
Customer visits, interviews, participation in customer events and seminars, trade fairs, mailings, website, social media
Climate benefit, environmental impact, ecolabelling, fiber sourcing, forestry, biodiversity, human rights, reindeer herding, occupational health and safety, customer benefits, resource efficiency, innovation, quality, product safety
• Customer surveys and customer visits
• Visits by customers to show our company's value chain
• Dialogue and onsite visits to demonstrate responsible forest management
• Dialogue about climate footprint, FSC and PEFC certification, product safety
• Training in Code of Conduct and the Global Supplier Standard
• Development of new products and service concepts together with customers. Life cycle management of products
• Visit to customers by experts in various fields
• Customers who perform audits of our operations
• Ecolabels and so forth, such as WWF ECPI
• Participation at trade fairs at national and international levels, for example DehliWood in India
Employees
Performance reviews, workplace meetings, work councils, online surveys, intranet, internal courses, management meetings
Health and safety, values and workplace culture, recruitment, skills development, succession planning, compensation and benefits, gender equality, business ethics, working conditions, resource efficiency, environmental impact, product development
• Training in the Code of Conduct, anti-corruption and business ethics, introductory course for new employees, skills-enhancement activities, Early career program
• Program ZERO for developing a health and safety culture, ISO 45001 certification (previously OHSAS 18001)
• All Employee Survey, equal opportunity plans, change management training
• Trade union interaction, such as business council meetings, collaboration meetings and safety committee meetings
• Participation in ASAP, student fairs and scholarships
• SCA's podcast Ingenjörspodd
Investors and owners
Investor meetings in conjunction with, for example, interim reports, capital market days, the AGM, interviews, website
Financial performance, market outlook, dividend and financial targets, areas of growth, forest valuation, risk management, climate impact, sustainability, corporate governance
• AGM March 20, 2019
• Investor and analyst meetings
• Roadshows in conjunction with quarterly accounts
• Roadshows in conjunction with quarterly accounts
• Risk management as part of the Board of Directors' Report in the annual report
• Seminar on climate benefit in February 2019
Suppliers
Follow-up meetings, request for tenders and procurements, interviews, website
Health and safety, supplier audits, business ethics, human rights, energy consumption, resource efficiency, climate impact
• SCA's Supplier Standard as part of contracts
• Supplier assessments and follow-up meetings
• Risk-based supplier audits performed on-site
• Training of purchasing staff
• Process for assessing countries and suppliers from a sustainability perspective
Private forest owners
Forest owner meetings, face-to-face meetings, customer magazine, website, social media
Management methods, forestry plans, ownership rights, forest certification, nature conservation, profitability
• Business contacts on an ongoing basis during the year
• Customer satisfaction interviews with private forest owners
• A large number of forest owner meetings held
• Further development of SkogsvingeTM for better landowner functionality
• Collaboration with Skogscertifiering Prosilva AB concerning a group certificate for forest owners
• Supervisory and annual reporting to government authorities, for example environmental reports
NGOs

NGOs Meetings concerning specific issues, interviews, reporting to ecolabels and sustainability indexes, websites
Forest management, biodiversity, climate and environmental issues, resource efficiency, green energy, human rights, hunting, reindeer herding
• Stakeholder dialogues
• Memberships and involvement in organizations such as the Swedish Forest Industries Federation, the Confederation of European Paper Industries (CEPI), FSC and PEFC
• Involvement in the revision of the Swedish FSC standard, other standards and ecolabels
• Onsite visits to the company's forests
Society
Dialogue meetings, local events, public consutation, interviews, website
Occupational health and safety, environmental issues, local issues, renewable energy, reindeer herding, labor market, education, community engagement, diversity issues, human rights
• Dialogues with regulators, government authorities, municipalities and lobbyists
• Consultation and dialogue about investments, permits and other local issues
• Consultation meetings with local Sami communities and residents living near to SCA's industries and forests
• Board representation or participation in organizations for regional development, such as chambers of commerce and Junior Achievement Sweden in the northern counties
• Participation in "Skogen i skolan" and "Tekniksprånget"