The CTMP market is growing globally and with our solid experience and expertise in mechanical pulp, we are now taking an important next step where we will increase production from the current 90,000 tons to 300,000 tons, starting early 2023.
An important component is birch, which is perfect for producing customized pulp. Although it is a difficult raw material to work with, SCA is only one of a few in the world who can and it is a very versatile material. The volume of birch in SCA's forests has increased significantly in recent years, enabling us to broaden our product portfolio and offer our customers exactly what they want. New technology and equipment will also further improve our environmental performance.
Ortviken is a perfect location for the new CTMP facility. The existing modern equipment from paper production can be reused and SCA has decided to invest a further SEK 1.45 billion.
Renewcell will rent the existing buildings that are not needed for pulp production and SCA will assist with resources such as steam, water purification and other services.
But there are several other compelling reasons why the increased CTMP-production will be located at Ortviken's industrial site. It takes quite a lot large efforts to modernize the current mechanical pulp facility at Östrand and it would also simplify the existing expansion plans for the NBSK production.
The modern equipment available at Ortviken's industrial site saves both time and money. Construction and groundwork are already in full swing and the CTMP facility is being installed in the existing buildings. But new chip handling and a new building for drainage, drying and baling are being built. The facility will be operational by January or February 2023.
The CTMP plant is already beginning to take shape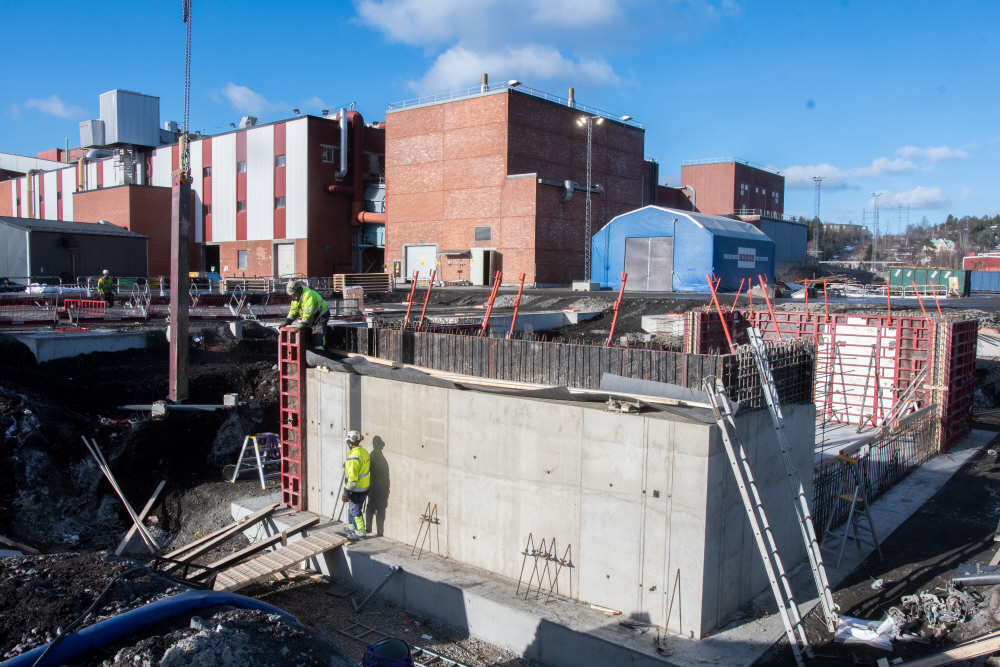 Casting of foundations for the building for drainage, drying and baling has begun. Photo: PA Sjöquist
The construction of the new CTMP facility at Ortviken is progressing according to schedule. In the new building, which will provide space for drainage, drying and baling, the foundation will soon be ready. Already at the beginning of April, we start with walls and roofs. Furthermore, groundwork to build a new chip silo and a new dryer has already begun, and in the existing refinery hall, the transformation to CTMP production is in full swing.