SCA's tenth forest assessment, where all of SCA's forests are being inventoried, has been in full swing since May. The data collected will provide valuable information about the amount of forest that can be harvested in the coming years without reducing future harvesting volumes.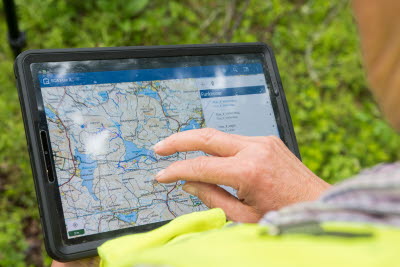 Almost 20 people are involved in the inventory of SCA's forests across northern Sweden. The assessors have been assigned to examine 1,900 randomly selected forest stands of varying sizes, Each forest stand consit on an average of nine sample plots and it is here the assessors collect data about tree species, for example, and the height, diameter and age of the trees.
The results will have a major impact on SCA's present and future actions in regard to the harvesting of its own forests.
"Firstly, we will obtain a status report on the condition of SCA's forests based on an objective inventory and be able to see whether our forests are growing as they should or if they have been impacted by storms and damage, for example, and secondly, we can make harvesting calculations to show how much forest we can harvest in the coming years without reducing our future harvesting potential," says Erik Forsberg, Project Manager for the assessment, and adds:
"Sustainable forestry is important for SCA and we want to maintain sustainable harvest levels."
Fun job
Two of this year's assessors are Mari Wiklund and Elias Hannus. They are both taking inventory of forests in different parts of Medelpad.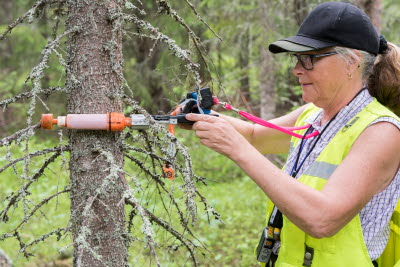 "This is a really nice job and it's great to be out in the forest. I feel very proud because we have so many beautiful and well-managed forests," says Mari who usually works with IT for SCA Skog's timber purchasing operations. "I am very happy for this opportunity to take part in SCA's company assessment for two months, thanks to an understanding manager and colleagues who have taken over some of my normal tasks.
Everyone involved in the inventory has undergone extensive training in order to record the data in the same way.
"Conducting a forest inventory is not difficult, but you do have to be very precise. In the beginning, it took a lot of time to understand how all of the tools work but the working method really fell into place after a few days," says Mari.
A lot of equipment
Elias Hannus is a newly employed trainee at Medelpad's Forest District. In contrast to Mari, he has been assigned to assess forests for the entire season – from May to October.
"This is a great job because I have control over my work hours. We work alone, but that's not a problem. If anything happens, we have a portable alarm with us," says Elias.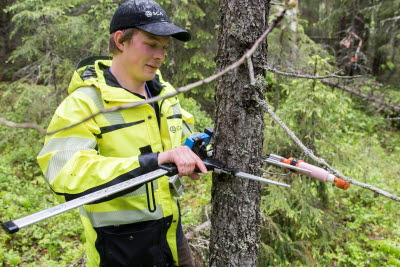 He moves quickly between the tree trunks and follows the arrows on the map on his tablet to find the site – a sample plot – to be inventoried.
His backpack is full of tools, and Elias produces a stick to mark the center of the plot and then wraps a measuring tape around the stick and a nearby tree. Then he measures the area using a digital slide caliper that looks like a large sliding jaw with a color display on the end.
"We select a radius of 5–10 meters to obtain approximately 20 trees per sample plot. I measure all trees with a diameter of more than 4 cm at breast height and record the tree species, and whether the tree is alive or dead. Then I put an orange mark on every tree trunk to make it easier to find, in case my work is checked by random sampling. All of the measurement data that I record is saved digitally in the caliper.
Precise measurement
One to two sample trees are also randomly selected in each sample plot. The assessors collect more data from these trees, such as age, height and any damage.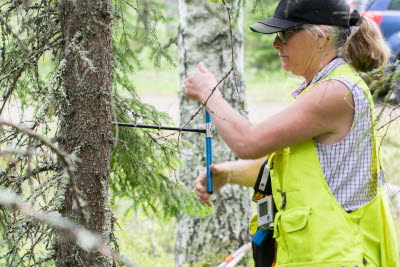 "We measure the age of the sample trees by boring into the trunks to extract a core sample and count the year rings," says Mari. "Then we measure the height and check whether the sample tree has any damage such as rot, a broken crown or if it has been attacked by insects. I also record the type of soil the trees are growing in.
At the end of every work day, the assessors transfer all of the data recorded to SCA's database. The assessment process is scheduled for completion by the end of October. All of the data will then be compiled and analyzed.
"In the first quarter of 2020, we are hoping to present a description of SCA's forests and a harvesting calculation for the next ten-year period," says Erik.
Photo: Per-Anders Sjöquist
Published 7/2/2019