Vi will develop together with the communities where operates and we will be a safe and inclusive employer where employees reach their full potential.
SCA's new sustainability targets
Zero workplace accidents
Attractive employer where diversity is a part of our culture
Target and outcome 2017
Target
Our aim is zero workplace accidents, and we will decrease our accident frequency rate by 50% between 2014–2020
All fully-owned and joint operations will be OHSAS 18001 certified by 2016
Outcome
Workplace accidents decreased with 9 percent measured as accident frequency rate
All main sites are OHSAS 18001 certified

Activities
Continue to develop our health and safety culture through program ZERO, including an introduction of behavior based safety
Follow-up compliance of OHSAS 18001 within the internal audit program.
SCA coaches contractors for joint development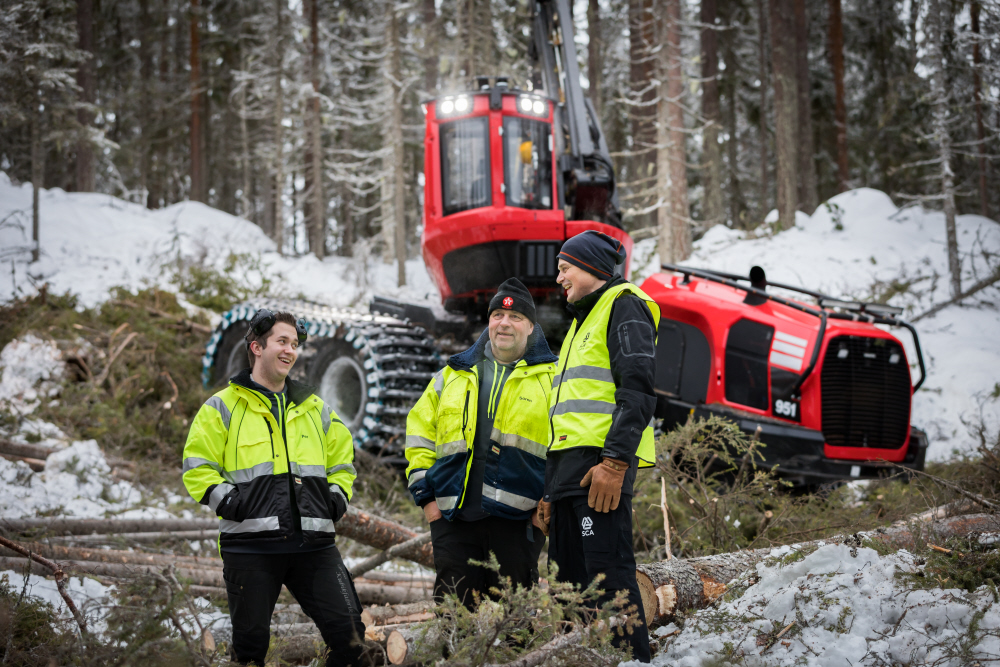 Photo: Torbjörn Bergkvist

SCA has a close collaboration with the harvesting contractors it engages, a collaboration that in some cases has extended over several generations. In recent years, SCA has also helped several harvesting companies to start up their businesses.
"We assist in drawing up their business plan and strategy, provide help on recruitment issues, advice on the utilization rate the machines should have and offer support in determining priorities, etc. Establishing new supplier companies helps to create jobs and is also an important part in ensuring that SCA's industries have a sustainable timber supply over time," says Martin Carlsson, Senior Business Developer at SCA.
Each year, SCA helps a number of companies with challenges, to become good, flourishing, supplier companies to SCA. This could take the form of strategic coaching, common targets, action plans or investments. Strategic coaching is stimulating for both suppliers, which can improve their credit rating, and for SCA.
Developed health and safety culture with ZERO
ZERO is a program launched to develop the health and safety culture within SCA. Despite targeted initiatives and a systematic approach to health and safety, too many accidents are still taking place. The situation must be reversed and ZERO will help us to achieve this. The first milestone is to halve the number of workplace accidents by 2018, compared with 2014. We must change our behavior if we are to reach the first milestone and subsequently reach our ultimate objective that no one should be injured at work. It means that each of us must put health and safety first and show this through our actions every day. Key success factors are commitment from management, concrete and challenging targets, as well as sustained commitment from our employees.
Work on ZERO began with a situational assessment. Based on the analysis, we then drew up action plans to develop our safety culture and began activities. In addition, we developed a joint toolkit with important routines, our own policy for behavior-based safety and a leadership development program.
"We have now run the program for one year and can see a positive impact. There has been a strong commitment to reach our target, a safe and secure workplace," says Katarina Kolar, Program Manager for ZERO.