Environmental consideration is a natural part in all we do in our forests. The environmental consideration by SCA encompasses; nature conservation consideration, cultural heritage consideration, consideration to recreation and outdoor life together with consideration to reindeer operations.
Three levels of nature conservation
No matter what we do in the forest – whether harvesting, pre-commercial thinning or thinning – nature conservation must always play a central role. Nature conservation comprises three levels: conservation areas, conservation patches and conservation objects.
Conservation areas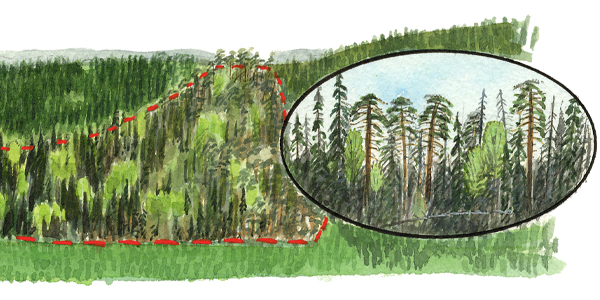 Conservation areas are areas bigger than 1.0 hectare (ha) that will be managed for conservation. Conservation management regimes prescribed may be setting aside for free development, postponement of final felling, or alternative treatment regimes. Conservation areas, typically, have high conservation values, e.g. virgin like forests, old stands rich in broadleaves and various types of swamp forests.
Conservation patches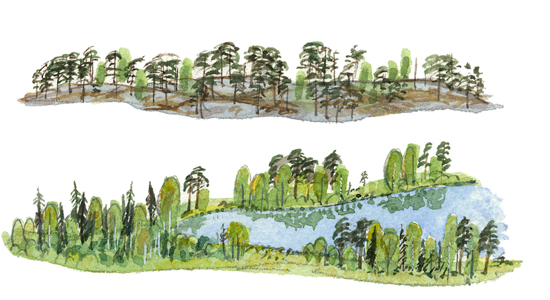 Conservation patches encompass buffer zones, wet hollows, outcrops of bedrock, steep rocky slopes etc. that have been set aside in connection to harvesting operations. These patches range in size from about 0.1 to 1.0 ha.
Conservation objects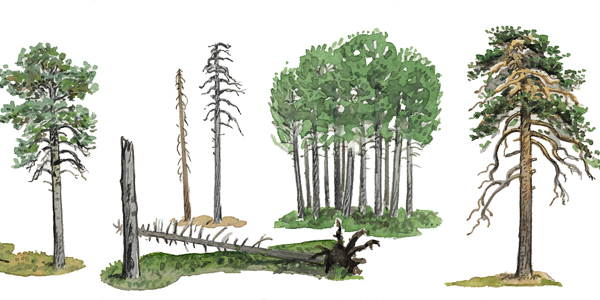 Conservation objects may be single trees, groups of trees, high stumps, lying dead trees, smaller wet hollows etc. The area of a conservation object is no more than 0.1 ha (33*33 m).
Illustrations: Martin Holmer
Nature consideration when harvesting
Planning is an essential part of effective nature consideration when harvesting. The most extensive planning for nature consideration takes place before final felling is carried out, since harvesting implies major changes to the forest.
Planning plays a key role in nature conservation measures during harvesting operations. The most extensive nature conservation planning takes place prior to harvesting, since these operations have a major impact on the forest environment.
A basic prerequisite for effective nature conservation is a well-implemented felling plan.
Planning for harvesting is always carried out by highly qualified personnel at a time of the year when there is no snow on the ground. They walk systematically through the forest to be felled, and plan the areas to be set aside – the conservation patches.
They use a GPS, a navigation satellite system, to mark the forest areas to be set aside on a digital map. The purpose of the felling plan is to create a good reference in the form of maps and directives for the felling team, so that they know what has to be done.
Key role for felling teams
The felling team holds a key role in the nature conservation process. The team determines the conservation objects to be saved, such as eternity trees, tree groups and small flushes, and how vehicles should be driven to avoid damaging the natural environment.
They use computers with digital maps and have a GPS in their forest machines, making it easier for them to see where they are working and to follow the felling plan.
Nature conservation when thinning
Thinning has a major impact on the character of the future forest stand. Thinking forward and creating optimal conditions for many species to survive in the thinned forest is therefore essential. Planning effective nature conservation measures when thinning enables even more effective nature conservation measures in future harvesting operations.
Preserving the biological diversity requires variation in the forest landscape. Our nature conservation measures vary during thinning operations, depending on the type of forest. In uniform, well-thinned young forests and heavily thinned older forests, we use thinning to achieve greater variation. In unmanaged thinning stands, conservation value must be preserved and sometimes strengthened.
Leave conservation patches untouched
Conservation patches, such as flushes, exposed bed rock, outcrops and ravines, must also be left untouched during thinning operations. Creating a stratified forest, with an abundance of deciduous trees around watercourses, is also important.
One example of measures at conservation-object level is that we always leave sallow, mountain ash and alder trees. We try to favor trees with high conservation value, such as thick and old trees, and to leave trees that can develop high conservation value. We generally leave all dead trees.
In stands dominated by a single tree species, we save divergent trees. If there are any spruce trees in a pine stand, for example, we leave the spruce.
Nature conservation in other forest operations
Harvesting is not the only operation that requires nature conservation planning. In other forest operations, such as soil scarification, pre-commercial thinning, thinning and road construction, planning is also essential for effective nature conservation measures.
Soil scarification and pre-commercial thinning
When planning for harvesting operations, we also plan the nature conservation measures to be taken during the soil scarification process that follows harvesting.
These include not scarifying flushes and avoiding driving over them. Neither do we scarify close to protective covers or buffer zones left around watercourses. We also avoid damaging the root systems of standing trees and high stumps.
During pre-commercial thinning operations, we promote high timber production while also preserving significant natural environments. Pre-commercial thinning is adapted to the variations that exist in the forest. We select the trees to save for the future and the stocks to be removed.
Important nature conservation measures during pre-commercial thinning include leaving sallow, mountain ash and asp, and saving large numbers of deciduous trees in the buffer zones around watercourses. Flushes and small areas of marsh comprised of wetlands must not be thinned.
Cultural environment considerations
A cultural environment in the forest consists of ancient remains and other cultural relics. They are protected by various regulations.
Cultural relics in the forest can be divided into two categories:
Ancient remains, which are protected under the Swedish Heritage Conservation Act.Other cultural relics, which are protected under the Swedish Forestry Act.
Ancient remains include pit traps, old settlements and prehistoric graves. Ancient remains and the surrounding areas must not be damaged by felling operations.
Examples of other cultural relics in the forest are remains from driving timber down watercourses, heaps of stones cleared from the fields, stone walls, charcoal pits, tar piles and old cottages left by forestry workers.
All known cultural relics are registered by the Swedish National Heritage Board, and marked in SCA's map system.
Anyone who is planning a felling operation must always check to see whether the felling will affect any known cultural relics, and write instructions for the felling team and scarification equipment operator. Making a cultural relic visible by felling the surrounding trees is often a good idea, but the relic must never be driven over or destroyed.
We endeavor to show great care when working close to ancient remains and other cultural relics.
Consideration of recreation and outdoor life
We aim to show consideration our forest operations in connection to paths, hiking trails, running trails, wind shelters and natural gathering places. The forestry shall not affect the usability of paths, trails and structures clearly intended for outdoor life
Consideration to reindeer operations
In our forest operation we aim to facilitate for reindeer operations and favour reindeer grazing when working within reindeer operation areas. Before committing operations in the reindeer operation areas we perform consultation with the affected Sapmi village.